Pokemon Go Updates To Bring Long-awaited Features Very Soon.
(ThyBlackMan.com) Though nothing is set in stone yet, Pokemon Go will most likely get legendary Pokemon, PVP battle, in-game trading, Gen 3 creatures and many other features anytime soon. The mobile game is now more than a year old, and still there are features that remain unavailable. These much-awaited features will also be accompanied by something more "valuable," the game developer Niantic is planning to deliver.
Pokemon Go Fest in Chicago is the beginning of the company's worldwide events. Coming July 22, Niantic plans to give special rewards to trainers, it is also calling players to participate and witness what company is going to reveal on the big day.
July is the anniversary month for the game, but the anniversary event didn't bring any excitement, in fact Niantic failed badly to regain the charm. The anger of players is clearly visible and to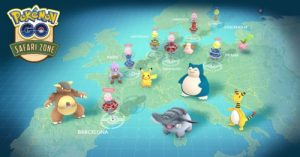 appease the anger, the developer is just waiting for the big reveal. Here's what Niantic can reveal anytime soon.
PvP Battle Update
There are numerous features that have yet to make it to the game and player-versus-player battling is one of them. It is true that the company wants to keep reasonable release gap between features to make sure that the players don't get overwhelmed.
Niantic, after observing the successful journey of Ingress, understands that social interactions can help boost a game's popularity and it can make the game sustain on itself. The company will undoubtedly bring PvP battles to the game, and most probably during any of its worldwide events.
Legendary Pokemon Release
The arrival of legendary Pokemon in the game means players will finally be able to find and catch legends like Articuno, Mewtwo and Moltres. It's been a year of speculation, but Niantic never confirmed the release date for Legendary Pokemon. The surprise factor, of course. The most powerful, but extremely rare Pokemon from the original game series are heading to the mobile game. The company has added many new creatures (even from Gen 2) to the game, but players never got a chance to catch any legendary Pokemon.
Trading Features
Very little is known about how trading will work in the game. It is said that the trading will be limited to small areas. The game is more about exploring region-specific contents, of course. But introducing trading features that enable users to trade online without distance-based limitations will be a great treat.
Niantic has not acknowledged that what they are going to do with trading, but there are many reasons to believe that soon we are going to see trading feature in Pokemon Go. The feature would make collecting Pokemon easier.
Other Features
Apart from the Legendary Pokemon, PvP battle and trading features, Pokemon Go will likely get Generation 3 creatures soon. The new generation adds around 135 Pokemon and these creatures are undoubtedly very complex in nature. The game is slowly losing its charm and to bring back players to the game, adding Gen 3 Pokemon will surely help.
It's certainly possible that Niantic is simply refusing to confirm the release of these features. But if the company keeps delaying things, it will likely face big letdown. Now when the hype is strong, Niantic surely has something to remain in people's eye. The way it has lost players in the last few months is embarrassing, and to make sure that people would care playing the game anymore, Niantic needs to do something really very big.
There are many reports, leaks and rumors about the arrival of the above mentioned features. Recently, in an interview, Niantic's John Hanke said that the company is about six-month behind where they thought it would be. According to Hanke, the success Niantic has seen with Pokemon Go caused the delay. He said that the company got funded by the game in a way that they can execute their plans for the game with ease.
So, now when the company has reached a level where funding is not an issue to develop game features, it would be interesting to see how Niantic utilizes the resources and delivers what players have been waiting for more than a year.
Staff Writer; Corey Shaw
Have any Tech Tips? News? Hit up our Tech Guru at; CoreyS@ThyBlackMan.com