FIFA 18 On Nintendo Switch: Buying Switch Is A Journey Full of Compromises.
(ThyBlackMan.com) The FIFA 18 on Nintendo Switch is not going to be fun if you have played the franchise games on other consoles. The power of the Frostbite Engine developed by EA DICE is matchless and the new game runs on the same engine for Xbox and Sony consoles, but not on the Switch. To run the game on Nintendo's console, you will need to get a custom-built port, and be ready to compromise on the game's features as well.
The Legend of Zelda: Breath of the Wild looks great on Switch. Undoubtedly it feels great, runs smoothly and looks highly appealing when played on the device's 6.2-inch screen or on a giant LED TV. But since we are focusing on the games like FIFA 18, it is very clear that we need a massive console packed with highly powerful hardware and software.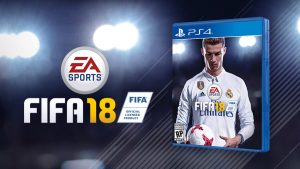 Switch is an underpowered console. Although Nintendo doesn't say that it is competing with Microsoft or Sony, of course, when you are asked to pay US$299.99 to get a gaming console, you should expect a powerful console which is capable of playing AAA games without compromising on performance and features. The USP of Nintendo Switch is its compact size and the ability to be carried anywhere. Of course it's not a home console, but it is still a console, and it should be capable of utilizing the true power of games. Unfortunately, Switch doesn't do so.
Is the FIFA 18 just a beginning of a journey full of compromises? Nintendo fans may not agree with the fact and yes, there are many reasons to justify the concept, price and features of Nintendo Switch, but when a developer like EA is releasing a game from one of its highly successful franchises, do you really feel that the company's statement "the most technologically-advanced portable FIFA experience ever" make any sense? If it does, here's what FIFA 18 Nintendo Switch version will look like.
Due to its limited capabilities, the game will run on an internal EA engine for Switch. As a result, players will not get the Journey: Hunter Returns mode in the game. If don't know, it is the second season of the story introduced in the predecessor FIFA 17. The Journey story mode allows fans to live their own story as Alex Hunter, who is the next rising star of the Premier League.
The Journey is now going to be available in five different languages with complete audio localization ability. Nintendo Switch players are obviously not getting this story mode which is a significant set back.
EA is simply testing the water by releasing FIFA on Nintendo Switch. The franchise already has a huge fanbase on both Sony and Microsoft consoles, and this is the first time FIFA is heading to the portable console Switch. EA is repeatedly assuring Switch users that the game will run without flaws on the handheld console. "Brand-new pitch environments, realistic character likeness, and new gameplay mechanics, all built for Switch," notes EA.
As the game won't feature the major story mode, EA says that the Switch is going to get more in-depth modes than any other portable console. However, the developer hasn't shared any specific details, Switch users will be getting Career Mode, FIFA Ultimate Team, Switch Kick Off – a game mode that allows players to get into local solo matches, and Local Seasons – a local multiplayer game mode allowing up to 4 Switch players to connect and compete.
EA is doing its best to deliver the best possible content on Switch. From the launch day, Nintendo Switch is lacking content. Nintendo understands the scarcity and has asked many developers to work on games for Switch. Now when EA is experimenting with the platform by launching FIFA 18 on September 29, the performance and reception will give a clear picture about whether Switch is worth considering in this age or it will be used as an experiment ground for developers.
Staff Writer; Corey Shaw
Have any Tech Tips? News? Hit up our Tech Guru at; CoreyS@ThyBlackMan.com