Three Ways Mental Attitude Predicts Success.
(ThyBlackMan.com) The proper mental attitude is a predictor of our success. What is mental attitude? Mental attitude is the positive, inner, creative force which lifts the recipient above his or her circumstances and determines the difference between their success and failure. Mental attitude is not conferred upon merely the rich and famous, but rather it's the imprimatur of every person born into the human experience. Each of us was gifted with mental attitude. All we must do is tap into it and experience the wonder of how it predicts whether we'll remain grounded in life or soar into the heavens. Here are three ways mental attitude becomes a predictor of our success.
Mental Attitude Begins with the End in Mind
To make a deep mental path, writes Henry David Thoreau, we must think over and over the kind of thoughts we wish to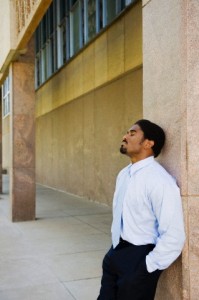 dominate our lives. That's it in a nutshell. Thoughts move like a river, they don't stand still like a pond. Those rivers begin somewhere; they move toward its destination, while making grooves and forming canyons of petrified places. So it is with our mental plane. Mental attitude always have a destination. A one-million dollar lifestyle. A better job. A happy family. Successful children. Good health. A fulfilling relationship. When you begin with the end in mind, mental attitude wears a groove into your reality.
Mental Attitude Radiates Confidence
My favorite Charles Haanel quote reads: But the man who knows that he has a Solar Plexus will not fear criticism or anything else; he will be too busy radiating courage, confidence and power; he will anticipate success by his mental attitude; he will pound barriers to pieces and leap over the chasm of doubt and hesitation which fear places in his path.
What is Solar Plexus? That energy-producing feeling at our core which propels us into greatness regardless of circumstances. One of the greatest feelings in the world is confidence. To feel confident is to experience supreme feelings of achievement. The only person who can scale such lofty heights is the person exuding mental attitude – the person who first begins with the end in mind and now rides the wave of confidence toward his or her destiny. They are an unstoppable force!
Mental Attitude Leads to Right-Thinking
Rarely does one enter the majestic kingdom of success from the road of wrong-thinking. True, one must make mistakes in order to realize success. Mental attitude, though, is a higher form of consciousness than merely making a mistake. Mental attitude posits, 'I am not a mistake!' Mental attitude operates on the plane of 'I can do'; it does not remain grounded by such motivation-inhibitors as "I'm broke", "I'm too fat", or "I'm too old".
Mental attitude pummels such thinking into smithereens! Mental attitude assumes a position of right-thinking because it began with its end in mind, and it moves on the cruise control of confidence.
Back to Haanel: It is our attitude of mind which determines the experience we are to meet; if we expect nothing, we shall have nothing; if we demand much, we shall receive the greater portion.
The world is harsh only as we fail to assert ourselves.
Mental attitude predicts our success by beginning with the end in mind, radiating confidence and leading us to right-thinking!
Staff Writer; W. Eric Croomes
This talented brother is a holistic lifestyle exercise expert and founder and executive coach of Infinite Strategies LLC, a multi-level coaching firm that develops and executes strategies for fitness training, youth achievement and lifestyle management. Eric is an author, fitness professional, holistic life coach and motivational speaker.
In October 2015, Eric released Life's A Gym: Seven Fitness Principles to Get the Best of Both, which shows readers how to use exercise to attract a feeling of wellness, success and freedom (Infinite Strategies Coaching LLC, 2015) – http://www.infinitestrategiescoaching.com.