6 Interesting Facts About Kodi Media Player.
(ThyBlackMan.com) Today Kodi is one of the most discussed terms in the context of media streaming. For all the good and bad reasons, the media player by XBMC Foundation is the software movie lovers can't stop talking about. Here are 6 interesting facts about Kodi only a few people know.
1. Kodi Isn't Illegal
While its reputation is being tarnished by its users and media due to illegal streaming of content, it is legal and the developers are relentlessly working on stopping its illegal use. The open source software program can be utilized to do some illegal activities including accessing copyright-protected content, watching live TV without paying and playing pirated content. Many people have already been arrested for the same, but if you are thinking of downloading the software on your PC or smartphone, doing so isn't illegal.
2. Your "fully loaded Kodi box" can put you behind the bars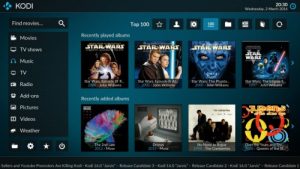 Many people around the world have purchased the boxes and of course, it is not illegal to buy the right ones, but due to illegal media-streaming, some vendors and users have found themselves in prison. National governments, media production houses and live streaming service providers are criticizing the use of such boxes. If you are buying a box that comes with illegal add-ons and services installed, you are putting yourself at risk. Streaming copyright-protected content without paying will certainly bring you under the radar of investigators.
3. Kodi is not a cable TV replacement
Since it is an open source software platform, anyone with good knowledge of programming and software development can develop add-ons. Many developers have done the same. Since the platform is absolutely free, developers don't get paid for their work and just like how you find many crappy software on the internet, and stupid games on the Play Store, these add-ons are not different. Some add-ons don't even work and some are too complicated. Now when the its own developers are supporting limited add-ons, there seems no strong future for such add-ons and for the boxes as well.
4. It is Free
If someone is asking you to pay for something on the platform, don't pay. The software program is completely free and doesn't require money. If you think that its box is the only way to enjoy content, you're wrong. If you are a casual viewer, you will not need a box to be installed at home or office. You can contribute to the program by making a donation through their official website. It's not mandatory, of course. So, if you're tired of spending money on subscription services, it is a great, free platform to access content.
5. It's a complete multi-platform home-theatre system
Why we call it complete because there is no end to the tricks, tweaks and customization's on the platform. You can do anything with it and can customize the platform to a great extent where almost every other system seems failing. From UI to its ability to serve content, everything looks complete. You can create your news feed, browse and play local content, change player skins, find numerous add-ons in the official repository and you can create your own add-ons.
The software application can be used on multiple devices and is available on Windows, Android, Linux, iOS (Requires jailbreaking), MacOS and several other platforms.
6. It can play almost every multimedia format
With the help of its native clients and parsers, the platform is suitable for playing almost all the common multimedia formats for video, audio and images. The software application decodes the audio and video formats to make them playable on the device you use. When installed, the platform provides support for many remote controls and also supports some of the current generation smart TV remotes. The official remote application is also available on some platforms which you can install on your phone and tablets to take control of the media with ease.
Staff Writer; Corey Shaw
Have any Tech Tips? News? Hit up our Tech Guru at; CoreyS@ThyBlackMan.com.