The G20 Summit Did Not Go Well.
(ThyBlackMan.com) It is even more apparent that the current President doesn't understand the definition of embarrassment. He doesn't see past his own ego. He is not the boss, and America is not his personal company to do as he pleases. The man doesn't seem to have an ounce of humility. It is not weak to admit error, nor ask for help. He doesn't seem to do either well. America most certainly has blood on her hands at home, and abroad. However, this country becomes more of a nation to take lightly as Trump shows he does not understand the state of the world. America is one nation in a globalized world, and others are willing to stand up to her. During the recent G20 Summit Trump showed the world he was unreasonable, solely nationalist, and it did not set well with world leaders. The worst part is he thought the G20 Summit went well.
The President was isolated on several fronts, and one must believe he could see what was happening. Climate control will continue to be a dividing issue because it seems the world can agree on it…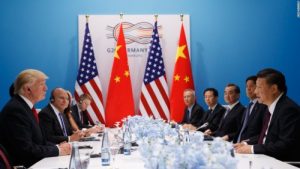 everyone accept Trump. His unwillingness to come to terms when facts are on the table, and that sets America apart in a negative way.
"Wherever there is no consensus that can be achieved, disagreement has to be made clear, Merkel said at the end of the summit. Unfortunately – and I deplore this – the United States of America left the climate agreement." It's terrible when leaders refer to one's nationalist isolationist without ever saying his name. I refuse to believe Trump doesn't know he's a source of contention for the international community. It's not wise leadership to ignore the global community, and that doesn't make America great.
"I will not concede anything in the direction of those who are pushing against multilateralism, Macron said, without directly referring to Trump. We need better coordination, more coordination. We need those organizations that were created out of the Second World War. Otherwise, we will be moving back toward narrow-minded nationalism."
It's bad enough that the President doesn't seem to truly respect the laws, and people of his own country. He has no problem with putting serious matters in unqualified hands. He doesn't yet understand what we didn't elect his daughter, as Ivanka Trump sat in, for her father, at a G20 meeting. What qualified her to sit in his absence…is our government that short staffed? He can't handle the world his way; more nations will stand up against America and it will be the people of this country that will suffer. There was no press conference at the end of the Summit from this president. He simply got in his motorcade and headed home. His thoughts "The #G20Summit was a wonderful success and carried out beautifully by Chancellor Angela Merkel. Thank you!" If this is what Trump thinks is a success…I'd hate to see what he calls failure.
Staff Writer; Christian Starr
May connect with this sister over at Facebook; https://www.facebook.com/christian.pierre.9809 and also Twitter; http://twitter.com/MrzZeta.