Samsung Galaxy Tab S3 vs New iPad Pro: What's the Same & What's Different?
(ThyBlackMan.com) The Samsung Galaxy Tab S3 is hitting store shelves in several more regions around the world. The company's 9.7-inch tablet comes in a premium glass design with an 18 percent faster CPU and 3 times faster GPU when compared with its predecessor. But how strong it stands against Apple's newly launched 10.5-inch iPad Pro? Here's everything you need to know about what comes out from the Galaxy Tab S3 vs iPad Pro battle. Let's take a look at their similarities and differences and decide which one is the best.
Display
Of course, there's are so many differences between the two devices. One comes from Apple and another takes Samsung's tablet series forward. From screen size to their display quality, both the new iPad Pro and Samsung Galaxy Tab S3 are different in many ways. Where iPad Pro now comes in an ideal 10.5-inch LED-backlit IPS LCD display, Samsung ships its Tab S3 with 9.7-inch Super AMOLED display. Apple breaks the limitations here with true-tone display, scratch-resistant glass and oleophobic coating on the iPad Pro's screen.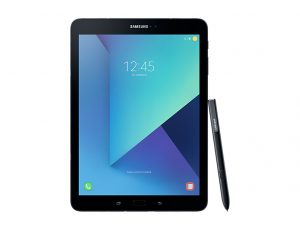 Performance
Obviously their operating systems are different, and processors are different as well. The Galaxy Tab S3 is powered by the Snapdragon 820 chipset, and iPad Pro accommodates Apple A10X Fusion as its processor.
Samsung probably didn't care about giving too much internal storage capacity as the device comes with just 32GB internal storage. But this doesn't make Tab S3 a bad option for tablet seekers, as the device allows you to add up to 256GB storage capacity through a dedicated slot. Apple's new iPad Pro comes in three options 64GB, 256GB and 512GB to choose from. Both the devices come with 4GB RAM.
Camera
Samsung Galaxy Tab S3 features a 13MP primary camera that can record 2160p videos at 30fps, and there's one 5MP secondary camera available. Apple here beats Samsung even when it has a 12MP primary camera and a 7MP secondary camera. Apple has given the ability to record 4K videos, and the best thing is that for the cameras, there's a large number of features and options Apple has integrated. Of course, many people don't prefer taking pictures with tablets, but if you have a camera with 4K recording capabilities, who wouldn't want to take pictures?
Sound & Battery Life
Both the Samsung Galaxy Tab S3 and Apple iPAd Pro sport 4 stereo speakers. Samsung has got the device's speakers tweaked by AKG, an Austria-based manufacturer of microphones. As far as the battery life is concerned, Samsung wins the game by providing a longer battery life than the iPad Pro. You can expect Tab S3 to last for around 12 hours as the device comes with a non-removable 6000mAh battery.
User Experience
It's sad but true that none of these tablets are a solid laptop alternative. They both have detachable keyboards and also support third party accessories, neither the Galaxy Tab S3 nor the iPad Pro is a perfectly replaces the need of laptop. With Apple iPad Pro, you get little more space to work and slightly bigger keyboard to make your fingers feel a little more comfortable.
When you choose a tablet to replace your laptop with, using the touch screen with stylus as a replacement for mouse is obvious, but is not a very convenient option. So, if you are really looking for a laptop alternative among tablets, it's just disappointment or inconvenience you can get if you choose one.
The launch price of the Samsung Galaxy Tab S3 is US$599 without the keyboard. Apple, on the other hand, has introduced two variants of its iPad Pro and the starting price is US$649. By shelling out some extra dollars, Apple users get a bigger tablet with more capabilities as the company will soon release the iOS 11 which is going to change many things for Apple buyers.
Staff Writer; Corey Shaw
Have any Tech Tips? News? Hit up our Tech Guru at; CoreyS@ThyBlackMan.com.