Know Before You Travel.
(ThyBlackMan.com) Passports among our people is growing in popularity as we desire to see more of the world. It is a beautiful thing to see so many of us deciding to explore different cultures and places. With that being said, it is understood that the world we live in is not exactly a safe place. What as intended to be a wonderful weekend, or adventure filled week can become a nightmare when we don't pay attention to the world around us. If one is determined to travel, then understanding the social climate in said country would be wise. While none of us should burden ourselves with living in a state of constant fear, it would be unwise to go to new places without paying attention to the news. Every time we look up there is a new terrorist attack so it is imperative to stay in the know.
You have your group ready, and all of you are excited about traveling abroad. Months of preparation have gone into travel arrangements, checking out spots to eat, tourist events and sites, and of course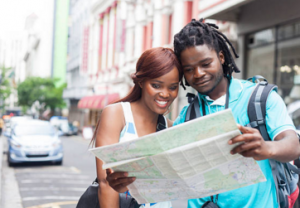 your wardrobe has been carefully planned. Of course, everyone is passport ready and you made sure you are traveling with people you trust. Though the weather can be fickle you have kept a close eye on the forecast for your destination. How to have your money converted, depending on where you are going, has been researched. You have made sure all bases are covered.
If you are going to a country whose culture is vastly different for your own it would be wise to have a basic understanding of laws there. This is very important if you plan on having an extended stay. Nothing can spoil a vacation like being jailed in a foreign country. Depending on where you are…being an American citizen may work against you. It would be wise to know where the US Embassy is located in the country you will be visiting. These details may not be needed at all, but it's better to know than to find yourself in need, and without. It is very important to be mindful, and respectful of the culture of the country you are visiting. Never assume that what is okay in the US is okay there.
We never know what will happen in the world, but we can pay attention to the what is going on in the country we plan on visiting. If that location seems like a hot bed at the moment maybe one should consider visiting at a time when the climate is calmer. Not saying it can't be done, but a country like North Korea is not the safest place to visit at this time especially for Americans. Safety should always play a part in the planning of your trip.
Life should be about living each day to the fullest; we should just be mindful of danger so that we can continue living. Travel, experience various cultures and people. It is definitely a beautiful experience…just be sure to gather all the information you need to ensure, as must as possible, a safe enjoyable trip.
Staff Writer; Christian Starr
May connect with this sister over at Facebook; https://www.facebook.com/christian.pierre.9809 and also Twitter; http://twitter.com/MrzZeta.