The flaw with John McEnroe's comments about Serena Williams.
(ThyBlackMan.com) Two tennis greats, International Tennis Hall of Famer John McEnroe, and current tennis legend Serena Williams have been linked in a recent controversy over McEnroe's comments about Serena Williams' place in tennis history. A few days ago while promoting his book on NPR, John McEnroe was asked about Serena Williams by NPR host Lulu Garcia-Navarro. The context of the conversation should definitely be taken into consideration when analyzing what McEnroe said about the greatest women's tennis player of all time.
The title of "best female player ever" was the title that John McEnroe gave to Serena Williams when he was discussing her during his NPR interview. That description prompted the interviewer, Lulu Garcia-Navarro, to question why McEnroe qualified the title by saying "female player" which led to the statement that made have caused a mini-firestorm. McEnroe replied by saying, "Well because if she was in, if she played the men's circuit she'd be like 700 in the world." It was that reply that led to a response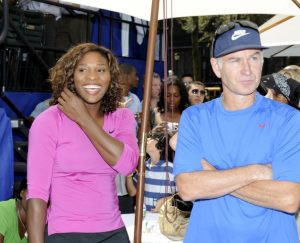 by Serena Williams herself who replied via Twitter, "Dear John, I adore and respect you but please please keep me out of your statements that are not factually based." The story didn't end with Williams' reply as shortly after McEnroe appeared on "CBS This Morning" a day later and he refused to apologize for his comments about Williams. It is completely understandable and predictable that McEnroe would refuse to apologize given his well-known fiery disposition. There is just are some things missing in how his flawed assessment of Serena Williams is.
There is no question that men's professional tennis players are more physically gifted than women's female tennis players. Serena Williams' size at five foot nine inches tall and 155 pounds makes her much smaller than most men's professional tennis players in a sport where men are as tall as they have ever been in tennis. John McEnroe continues to be a major part of professional tennis as a broadcaster. He is a wealth of tennis knowledge but saying that "Serena Williams would be like 700 in the world" in terms of men's tennis ranking is flawed because it is a hypothetical that really can't be disproved or proven with absolute certainty.
It is unlikely that Serena Williams would be a top ten player in men's professional tennis because of the physical advantages those top men's players would have over her but it difficult to say how many of the professional men's tennis players would be able to match the guile, agility, knowledge, and pedigree that Serena Williams would possess. Serena Williams might be the 700th, 1000th, or the 150th best player if she played on the men's tennis tour but it is an idea that cannot be answered.
Ultimately, comparing Serena Williams as the best female tennis player of all-time as it relates to contemporary men's tennis players is an insult to her because her resume far surpasses all men's tennis players currently playing not named Roger Federer, Rafael Nadal, or Novak Djokovic. The accomplishments of Serena Williams do not need to compared to men's tennis for an understanding of her greatness. Women's tennis is different than men's tennis and being a tennis legend in one sport like Williams is doesn't need any further explanation.
Staff Writer; Mark Hines