Rob Kardashian & Blac Chyna: Why do We Care.
(ThyBlackMan.com) Okay I know there is plenty of tea to discuss in the world, and the Kardashian name tends to draw a crowd. Though I don't care for the family much at all, and I believe the Kardashian women destroy men, there are member so the family that confuse me. So Rob Kardashian…why are we talking about you and why is your name still buzzing? What is it about your life that is so gossip worthy? Honestly he seems like the weakest and possibly most regular of the Kardashian characters. I guess we are reading about him because of his former fiancé Blac Chyna, and their beautiful baby girl. Even this raises my eyebrow…
Blac Chyna…I had no idea her name for quite some time. So, she's a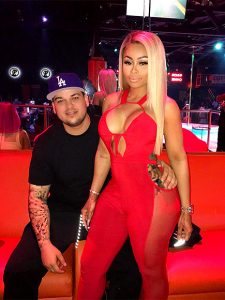 video chick, I mean model…, that is now an entrepreneur and this is what makes her gossip worthy…oh she's with a Kardashian. People do you see the problem here. Nothing about the life of these two people seems all that noteworthy, and yet on name alone they have a show and we are tuned in. I'm sure the fans of Rob Kardashian and Blac Chyna will comment about why they are important, and why I should care about how they are living.
Well, if we are going to dive into that tea then maybe the discussion should be by is Rob Kardashian and Blac Chyna ready to throw their infant into the business? Sources say Rob Kardashian and Blac Chyna are indeed broke, and need this baby to make their fortune or more less maintain their lifestyle.
Please tell me it isn't so because that would be totally unfortunate, and I already feel sorry for this baby but this would take it to another level. Kris you saw to the stability of your girls…what happened with Rob Karsashian? Trust me it wasn't going to be his dashing good looks that bank him so I'm surprised you didn't have a contingency plan for your baby boy.
Bottom line, not to be mean nor heartless, I don't see why we bother following the details of Rob Kardashian and Blac Chyna. I'd rather sit home and read "War & Peace" verse being bothered with these two. Yes, its that bad. Folks maybe we put too much care into the lives of reality celebrities that really aren't stars. That's just my two cents…they make my tea cold.
Staff Writer; Adonicka Sassy