Life Fix: Four Steps to Realizing Your Greater Self.
(ThyBlackMan.com) What is our greater self? It is the desire to become more, to achieve more and to contribute more than could have ever imagined. And guess what? This innate desire was placed in every human being ever created!
We were wired as humans to unfold to our potential. No person has the right to mitigate this unfolding – regardless of how pop culture endorses and indeed creates the very conditions to do so.
A great teacher once said, The Architect of the Universe did not design a staircase going nowhere.
We were born to go somewhere and that somewhere is up – it's a progressive movement forward.
We are to evolve regardless of the obstacles placed in our path. If we are to move past those obstacles, we must consider what the great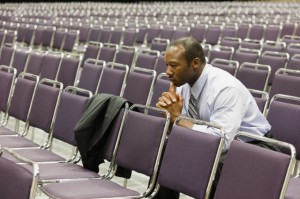 Albert Einstein opined:
No problem can be solved from the same level of 
consciousness that created it.
Here are four simple steps or perspectives you can take to move your consciousness to a higher level.
Step One
Discover something greater than earning a living and raising a family
Is it your destiny to get up out of your bed each morning merely to report to a job so you can pay bills? What if you could move beyond that and be inspired by a greater cause? What if you could own your own business? What if you could travel at your leisure? Most of us have become trapped in the vicious cycle living to pay debt and raising children. While both are noble, the point is there is something greater that await us. I hear what you're thinking as you read this: that's much harder than you think. True. But it's no less hard than the thinking that got you to your present circumstances.
Life Fix:
Your purpose is connected to your dreams. Dream again and reconnect to what you really, really want.
Step Two
Identify and build on your strongest strength
Purpose is also connected to determining your strengths – what you are good at! Often we waste a lot of time and give ourselves many headaches by focusing too much on our weaknesses. While it's always good to identify behaviors that got you into a mess, it's just as timely to focus on building on strengths that will prevent such action in the future.
Life Fix:
What do you do that usually ends up being very productive for you? Discover that one thing and make it your go-to model.
Step Three
Emulate someone's success
Success does not take place in a vacuum. Often, a person who's successful found a better way to success than the previous person. Ideas are a commodity. Ideas are exchanged as often as stocks and bonds.
Life Fix:
Find a way to do something better. How do you think the Uber concept evolved? Essentially, Uber is an upgraded taxi service. What can you do better?
Step Four
Lift as you climb
This is the most important principle of the four. It's important because it reminds us that, when it's all said and done, it's only what you do for others that really matters. Keep in mind that you are not only contributing to your own welfare, but for the welfare of others, too.
Life Fix:
As you climb, lift. As you lift, keep climbing.
Become more. Achieve more. Contribute more.
Staff Writer; W. Eric Croomes
This talented brother is a holistic lifestyle exercise expert and founder and executive coach of Infinite Strategies LLC, a multi-level coaching firm that develops and executes strategies for fitness training, youth achievement and lifestyle management. Eric is an author, fitness professional, holistic life coach and motivational speaker.
In October 2015, Eric released Life's A Gym: Seven Fitness Principles to Get the Best of Both, which shows readers how to use exercise to attract a feeling of wellness, success and freedom (Infinite Strategies Coaching LLC, 2015) – http://www.infinitestrategiescoaching.com.