Be Patient with Your Body.
(ThyBlackMan.com) When you make up your mind to work on your fitness goal, and possible shed pounds there is resolve and excitement. We get our eating regimen in order, purchase the gym membership, and get our workout clothes ready to work for the body we want. The mentality is positive, but for it to be maintained it is important to be realistic with yourself. Once you've assessed where you are, and what kind of workout you need it is very important to take your workout goals one day at a time. Though you are anxious to see results it is important to remember the journey you are on is a process, and it won't be achieved overnight.
Sometimes our expectations are based on what we see others do in a gym, or the testimony of someone that has told us it doesn't have to take long. However, they may have neglected to mention the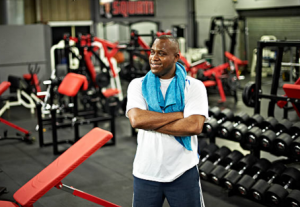 supplements taken, or other modifications made that would accelerate the burning process. It is very important to base progress on your diligence and discipline regarding your workout and eating regimen along with the state of your body. When the focus is wellness one can get into a space whereby they appreciate the process of reaching their fitness goals.
A lack of patience can lead to seriously bad decisions that can cause major setbacks. In all honestly many of us didn't gain weight in a month, and we won't lose it in a month. Furthermore, muscle development takes time as your muscles must be conditioned and stretched. When you run out of patience you open yourself up to trying risky lose weight quick supplements without taking into consideration on your health long term. Everything bottle that says take these for a month you'll lose weight won't make good on the promise, and some that do don't highlight the price. Another pitfall is found in crash diets, which can offer immediate gratification sometimes.
However, the long-term weight loss is not stable, and you may find yourself gaining the weight back plus more once you break off from the diet. I remember a diet lady once convinced me to try, and it was very expensive as she made everything herself. However, I didn't realize that the supplement she had me taking was extremely high in potassium. When I went to the doctor we found out my blood has become extremely thick which could have caused major health problems. Needless to say, I got off that diet immediately.
Lastly, when you are not patient with yourself you can find yourself abandoning the workout all together. Too much pressure on self in the area of results can cause to resent your workout, and new healthy eating habits. Being healthy, and fit is a lifestyle. Your body will go through many changes on the journey to achieving your fitness goals. Realize going in that this is a process that takes time, and allow yourself to adjust to your new lifestyle. With persistence, and consistency the results will come.
Staff Writer; Christian Starr
May connect with this sister over at Facebook; https://www.facebook.com/christian.pierre.9809 and also Twitter; http://twitter.com/MrzZeta.