The War On White People – Part 1.
(ThyBlackMan.com) THIS article is not written to defend white people because they can and will defend themselves, these are just observations of mine, however I must say I gained a lot of respect for white AMERICA over the last 8 years they calmly endured a hostile black president determined to isolate them and create the climate of racial division that we're experiencing today and OBAMA didn't even try to hide the fact that he was flooding the country with third world people to make them a permanent minority, white AMERICAN'S didn't panic and take to the streets with their guns out , they found a leader put together a movement and regained control of their government and they did this all civilly and legally.
THE ABOLITION OF WHITENESS !
THE 'abolition of whiteness' is actually a course being offered an HUNTER COLLEGE IN NEW YORK CITY the course will be examining how 'whiteness' and white supremacy and violence is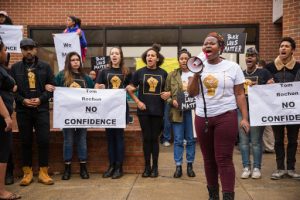 intertwined with conceptions of gender , race ,sexuality, class, body ability, nationality and age, students can earn 3 academic credits for completing the course so far 15 students have registered for the course out of a maximum 25
ON other campuses things are far more intense and the language is very extreme at some colleges black students are demanding racially segregated dorms and at TEXAS A&M UNIVERSITY there is a black PHILOSOPHY professor who is openly calling for the death of white people PRO. TOMMY CURRY told his student's' we have to teach racial minorities that racism in the U.S. is a permanent feature of AMERICAN democracy because they are not currently prepared to make systematic and political attacks on the foundations of white supremacy in AMERICA'.
'IT requires us to destroy the way society is formulated now, 'white people dying or people in power dying has usually worked' and this man is still employed at the UNIVERSITY. http://www.supportaggies.com/2017/05/new-video-prof-curry-destroy-society-white-people-dying-worked/
AND at another college EVERGREEN STATE in WASHINGTON the students are demanding white people leave the campus in observance of its day of absence and literally rioted when a white professor refused to leave and took over the campus making some of the most profane statements and its really hard to watch and listen to young people being used like this , but this is what they had to say!
-F**K YOU AND F**K THE POLICE!

-WHITENESS IS THE MOST VIOLENT SYSTEM TO EVER BREATH!

-I'M TIRED OF WHITE PEOPLE TALKING ABOUT WHAT BROWN AND BLACK PEOPLE NEED!

-THESE WHITE A** FACULTY MEMBER NEED TO BE HOLDING HIM AND HIM AND ALL THESE PEOPLE ACCOUNTABLE!

– F**K YOU GEORGE [BRIDGES] , WE DON'T WANNA LISTEN TO A GODDAM THING YOU HAVE TO SAY ! NO YOU SHUT THE F**K UP!
THE colleges have become very hostile territory for white people and whether this is college level language or not is debatable but if you haven't seen GEORGE SOROS'S money at work take a look, SOROS has over 200 organizations throughout the world and some do nothing but train student activist to cause political chaos in their countries that he can then exploit to further his political agenda and you'll notice from this time on, its all scripted and uniform and that's because these young people are put through the same classes and training sessions.
THE DEATH OF A CULTURE!
TO de legitimize a culture is to de legitimize a people someone has decided that with all the diversity and inclusiveness we should all embrace , there's one culture that's simply unacceptable, if you haven't heard there's actually a movement to pull down the old confederate statues and monuments throughout the country and as a resident of a southern state I can say these people have a large job ahead of them because almost everything down here is named after one of these people.
THE mayor of BALTIMORE CATHERINE PUGH has gotten into the act following the lead of the mayor of NEW ORLEANS MITCH LANDRIEU both democrats, who pulled down the civil war era statue ROBERT E. LEE that was placed in the city's center over 100 years ago, PUGH said the city wants to remove the structures which elevate the pro slavery confederacy in a diverse city, we'll see how we can follow in the footsteps of NEW ORLEANS.
PUGH say's she wants to pull down the 'confederate soldiers and sailors monument, the confederate women's monument and a monument honoring ROBERT E. LEE and STONEWALL JACKSON in BALTIMORE.
I'M sure the new mayor will never fix BALTIMORE'S failing public school's or its corrupt police department and judicial system or even lower the murder rate by 1% but she will give us something, she's gonna pull down some 100 year old statues.
BLACK AMERICAN'S should be very careful with this because I understand after 8 years of high intensity racialized politics many of us have forgotten something very important , we're AMERICAN'S too and whether we like it or not this is also our history our ancestors fought in the same civil war as ROBERT E. LEE and on both sides of the conflict and pulling down statues can't change that and who's to say that one day they won't come after our black monuments and hero's this is just more cheap race baiting democrat politics. http://rinf.com/alt-news/newswire/baltimore-mayor-joins-growing-movement-to-remove-confederate-monuments/
LA RAZA AND THE CONQUEST OF CALIFORNIA!
THE most prominent of all MEXICAN AMERICAN leaders was the late CESAR CHAVEZ who was president of the labor union UFA the united farm workers of AMERICA, his name is on parks and streets and school's throughout the country especially the southwest but what distinguished him from many other MEXICAN AMERICAN leaders both then and now was he fought against illegal immigration because he thought it hurt the very people he represented the members of his farm labor union by keeping their wages low but most importantly he rejected the race based nationalist or racial identity politics that groups like la raza [the race] represent, la raza actually approached CESAR CHAVEZ to be their leader but this is what he thought of their movement,'I hear more and more MEXICANS talking about la raza to build up their pride you know, some people don't look at as racism but when you say la raza your're saying a anti gringo thing and it won't stop there, today's its anti gringo and tomorrow it will be anti negro and the day after that it will be anti filipino , la raza is a very dangerous concept' I speak strongly against it among the chicano's , he said that in 1969. https://books.google.com/books?id=8Lc92Ne1HD8C&pg=PA27&lpg=PA27&dq=cesar+chavez+and+la+raza+unida&source=bl&ots=WU0Qd9-stT&sig=q1aESw02q9qZpz1aLYua59H-Nc0&hl=en&sa=X&ved=0ahUKEwin7tKhoajUAhVI94MKHb9qDncQ6AEIXDAJ#v=onepage&q=cesar%20chavez%20and%20la%20raza%20unida&f=false
CESAR CHAVEZ'S worst nightmares have been realized the la raza movement has not only grown and gained political power including a member of the U.S. supreme court 'SOTOMAYOR' but it has also spawned many other racial nationalist latino groups like MECHA or CHICANO STUDENT MOVEMENT OF AZTLAN who sponsors the 'RECONQUISTA' movement an even more militant and separatist agenda and before they pulled this page off their website this is how the described their movement, 'CHICANO is our identity , it defines who we are as a people . IT rejects the notion that we …should assimilate into the anglo american melting pot ,AZTLAN was the legendary land of the AZTECAS ,brutally stolen from a MEXICAN people marginalized and betrayed by hostile custodians of manifest destiny'.
'IN the spirit of a new people that is conscious not only of its proud historical heritage but also the brutal gringo invasion of our territories , we, the chicano inhabitants and civilizers of the northern land of AZTLAN from whence came our forefathers ,reclaiming the land of their birth and consecrating the determination of our people of the sun , declare that the call of our blood is our power , our responsibility and our inevitable destiny .
WE are a bronze people with a bronze culture, before the world and before all of north AMERICA , before all of our brothers in the bronze continent , we are a nation we are a union of free pueblos , we are AZTLAN, 'FOR THE RACE EVERYTHING OUTSIDE THE RACE NOTHING'.
FROM its very inception la raza was funded by groups like the FORD foundation with a $10 million grant and other large global corporations and also they have received a steady stream of money from people like of course GEORGE SOROS http://tennesseestar.com/2017/02/19/nashville-indivisible-organizer-leads-soros-funded-national-council-of-la-raza/ who has never seen a separatist hate group he didn't like , OBAMA was a special gift to la raza he not only spoke at one of their conferences but he give them millions of dollars in grants, the truth is the left wants division not diversity, CALIFORNIA is not more diverse after 25 years of open borders , its more MEXICAN and that was the objective and if you listen to the la raza people talk they will tell you this!
http://www.youtube.com/watch?v=U9veYp9gq9
Staff Writer; Robert Jordan
Official website; http://TheAfricanSpear.com