Meet P.K. Subban-Hockey's latest black star.
(ThyBlackMan.com) The National Hockey League does not have the largest percentage of African-American athletes among professional sports leagues. The NHL is a mostly white professional sports league and there are only 30 black hockey players in the NHL, which is only five percent of the league. There is not a long history of legendary black hockey players in the NHL like there is in the NBA, NFL, or Major League Baseball. But the pioneer for black hockey players, Willie O'Ree, did make history during the NHL's 1958-59 season as he became the first black person to play in the NHL. There have been a select number of talented black NHL players since O'Ree made history including Grant Fuhr and Georges Laraque but there will be another talented black NHL player of note playing in the 2017 Stanley Cup Final, Nashville Predators' P.K. Subban.
P.K. Subban is a six foot, 210 pound defenseman who is considered a star and an impact player for the Nashville Predators. He is a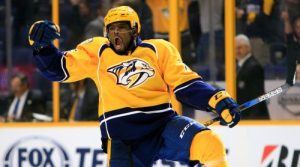 Toronto native who had a successful start to his career with the Montreal Canadians before joining the Predators for the 2016-17 season. His success included winning the James Norris Memorial Trophy for his play during the 2012-13 NHL season. The Norris Trophy is given to the top defenseman in the NHL annually. It should not be lost that Subban became the first black NHL player to win the Norris Trophy and the fourth black player ever to win an NHL award. Subban excels on the ice but he is also known for his flair and personality.
On the NHL's official website, he is described as "one of hockey's most outgoing personalities, and he has shown he's a natural in front of the camera". Earlier this season, Subban's personality was the target of NBC broadcaster Mike Milbury when Milbury made some negative comments about Subban during pregame warmups during a Nashville Predators playoff game earlier this year. Regarding Subban slightly dancing during warmups Milbury said, "When I see this I start to think maybe (Predators coach) Peter Laviolette ought to give him a rap on the head and say, 'Hey P.K. focus in, we've got a game tonight and you don't have to be a clown out there.'". There was immediate support for Subban against Milbury's insulting comments.
P.K. Subban is not just a talented hockey player. He is also a person who makes a difference off the ice as well. He made a $10-million, seven-year pledge to the Montreal Children's Hospital Foundation. He also served as the public face of the Hyundai Hockey Helpers program, a program to help impoverished families get sons and daughters into the increasingly expensive sport of hockey.
P.K. Subban has also led the way for his talented younger brothers as an example to play in the NHL. His brother Malcolm, a goalie, was a first-round draft pick of the Boston Bruins in 2012, and his other brother is defenseman Jordan was a fourth-round pick of the Vancouver Canucks in 2013. If you are looking for an exciting reason to watch the 2017 Stanley Cup Final, P.K. Subban is a good one.
Staff Writer; Mark Hines