Janet Jackson or Whitney Houston: Are You Serious.
May 19, 2017 by Staff
Filed under Uncategorized
(ThyBlackMan.com) I was in the airport having a discussion with a fellow passenger about how much I love Janet Jackson. I love her music, choreographer, and definitely her performance presence. However, I expressed that one of the things I admired most is vocally she stayed in her lane. Real talk Janet Jackson doesn't have a power house voice at all. Its average at best…but the albums sound good, and Janet Jackson's performance makes up for the vocal lacking.
Well, my discussion partner is also a Janet Jackson fan, but she's almost fanatic with it. She is incapable of seeing there are areas whereby Janet Jackson hands down isn't the best. She looks at me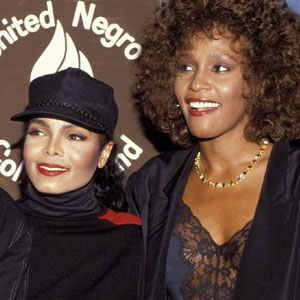 and informs me that Janet Jackson is better than Whitney Houston. Ok, at this moment I had to ask her was she serious or outside of her mind? Did she mean better as in live performance…dance maybe? We all know dancing wasn't Whitney Houston's area. Well, she informed me Janet Jackson is better period…at everything.
Look, I know some of all were upset about my opinion (no need to be nasty about it lol) regarding Mariah Carey…and I stand by it. However, I'm no fanatic of a fan for any artist…so this lady had gone mad. Whitney Houston's voice in music is amazing…not was…is. Whitney Houston could destroy Janet vocally without even trying. I've never heard Janet Jackson sing the national anthem, but after Marvin Gaye, Whitney Houston is my absolute favorite.
Her vocal strength, control and range was absolutely beautiful…she sings into your soul. There is no way Janet Jackson could pull off a "I Will Always Love You" hell the first half of The Bodyguard Soundtrack belonged to greatness of Whitney Houston. Yes, I stand by my opinion that Whitney Houston on drugs…hence not at her best could still own most artists vocally. Whitney could just stand there and sing. Period.
I love Janet Jackson, but I miss the voice of Whitney Houston. I find myself listening to her music often when I need a voice strong enough to reach me (no she isn't the only one). There are songs I adore by Janet Jackson, but Whitney Houston could pull you from under the table with her voice. I understand fandom, but Janet Jackson could never beat Whitney Houston vocally when she was alive…and if we just compare music she never will.
Staff Writer; Adonicka Sassy