When the Love Goes too Far.
(ThyBlackMan.com) Being a sports fan is a fantastic thing. There is love for a game, a drive for success, and admiration for the players. However, on occasion, folks can take things way too far. The important rule of thumb is to keep things in perspective. Watching the game on DirecTV's Sunday Ticket or going to the local sports bar with friends is a wonderful way to support your team. But, you must remember that it's not the entire world and your life does not depend on what happens with your sports team. Today, we want to show you how others have made mistakes so that you can avoid your own.
The Loss of Family & Friends
It has been discussed many times. Domestic violence calls to 911 increase during major sporting events. Many victims report how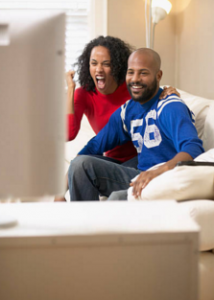 their partners tended to take out their frustrations on them anytime their partner's favorite team failed. We want to stress that a team losing is not causation for domestic violence, there is an underlying factor at play when it comes to domestic violence. But, there is some correlation taking place.
Even if we take a step back and don't go to the extremes of domestic violence, some fans are so crazy for their team that they will lose their friends and family over their obsession. If you don't have anything to talk about except the Jets or you refuse to talk to anyone who likes the Orioles, you are setting yourself up for failed relationships.
The Loss of a Job
Some fanatics go to a level in which their job is affected. Many folks have lost their position because they spend more time researching stats than they are doing work. Of course, we also hear of those that lose their job because they called in sick so they could attend a game. While being passionate about a game or team is fantastic, a line must be drawn and boundaries honored. At work, it's time to work. Wait until your lunch break to review stats or to talk about last weekend's game. There is a time and place for everything and unless you're a sportscaster, work isn't that time.
Athletes Look for Perspective
If you need any inspiration to remind yourself that family and friends are just as important as the World Series, look to your athletes. A few years ago, Boomer Esiason found himself immersed in controversy over statements he made about a baseball player. He criticized Daniel Murphy, of the New York Mets at that time, for choosing to stay with his wife on opening day. She had just had a C-Section and gave birth to their child. Murphy's response was that he felt it was the best choice he could make by putting his family first. It is a response that shows that an athlete can be committed to his career and understand that family is still important.
Being a fan is a wonderful thing. Wearing your teams jerseys, having Superbowl parties, and friendly betting on who is getting into the Final Four are great ways to embrace your passion for sports. Just remember that there is always a balance. If you find yourself ostracized because of your love for your team, consider taking a step back or even seek out some counseling. It doesn't mean you have to give up your team forever, you just want to find that balance and keep your family and friends close.
Staff Writer; George Hall