Apple AirPods: The Good, Bad and Ugly About The Wireless Headphones.
(ThyBlackMan.com) Apple AirPods reviews are doing rounds everywhere on the internet. For some users, the new wireless headphones make you a complete alien, while for some people, it is the future. Of course the AirPods are not a small deal as the tiny headphones even led Kristen Stewart to give them a try. But should you really buy AirPods? Is it worth paying US$159 for Apple's AirPods?
Here's a careful analysis of the good, bad and ugly sides of the Apple AirPods.
The Good
As far as the features of Apple AirPods are concerned, the headphones come with the smartest technology available till date. The sensors tell the device whether they are in ear or out. You take them out and the music stops. Regardless of the device you use, the AirPods work efficiently with iPhones, iPad, Mac and Apple Watch as well.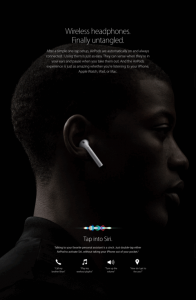 The battery lasts for five hours and a 15-minute charge can add 3 hours of life. The AirPods can survive for 24 hours with the charging case that comes with the package. Connectivity with Siri and auto pairing with Apple devices is flawless.
Another good thing is that Apple has not kept AirPods limited to its devices. You can use AirPods on almost any non-Apple device. Note that Siri and pairing option will be absent in such cases.
The AirPods are really comfortable and get fit perfectly. No matter whether you exercise, run or do some chores, they will not come out like the other headphones. You also don't need to worry about your headphones getting caught in chair.
That's all you can find good in Apple's new AirPods.
The Bad
The one thing about Apple AirPods is that they don't fail in turning heads. Imagine yourself wearing Apple EarPods with their wires cut. That's how you look when you wear Apple AirPods.
An alien kind of feeling you get when you're among people because the tech is still not widespread. But yes, it is not something really bad because when the cellular tablets arrived, strangers used to give weird look to those speaking on a giant mobile phone like device.
No matter whether you find it a drawback or not, the lack of control is certainly a major flaw in Apple AirPods.
Unlike the company's wired EarPods, you don't get any button to answer calls, turn volume up/down or change music. AirPods force you to do all this through Siri or directly through your device.
If you really want to raise the volume, you will need to tap AirPods twice. Then Siri will be activated so you can ask her to raise the volume by saying "raise the volume" or something like that to finally get the volume up. No manual control, huh!
The only good thing here is that you can reassign the activity that takes place after you double tap. Instead of activating Siri, you can assign the double tap to play or pause music. It will help you but your problems related to volume control and other abovementioned issues will remain the same.
Apple's new wireless headphones are easy to lose. If you are the one who keeps earphones anywhere, it is better you start learning to keep them in one place. If you are buying AirPods, the safest place to keep them is their case. But also make sure that you keep the case in a safe place because it is also a tiny piece.
The Ugly
Why do you buy headphones? A majority of us invests in new headphones because we expect better sound quality than what the free headphones can give. And when you're investing US$159, you will surely expect them to give better sound.
Now when Apple owns Beats, we expect the company to offer extraordinary sound quality in its headphones. Like I said that AirPods are Apple EarPod without wires, when it comes to sound quality, there is no difference. What you get from wired EarPods is what you will get from wireless AirPods.
Do you really want to buy headphones that give you sound quality similar to 50-dollar headphones? It's your choice, of course.
Staff Writer; Corey Shaw
Have any Tech Tips? News? Hit up our Tech Guru at; CoreyS@ThyBlackMan.com.