Samsung Gear S3 Frontier Watch Easy To Hack, Claims Researcher.
(ThyBlackMan.com) Promoted by adventurer Bear Grylls, the Samsung Gear S3 Frontier Watch can be hacked very easily. The recent shift from Android to Tizen is exposing Samsung's millions of customers to the risk of being hacked remotely. A researcher named Amihai Neiderman from Israel has reported Samsung about the vulnerabilities and the company is ready to work with him to identify and fix the problems.
Samsung replaced Android with its new operating system Tizen and since then, the company has launched many products in its wide ranging lineup of smartphones, TVs and smart watches. According to the researcher, Samsung's Tizen operating system that powers Samsung Gear S3 frontier has around 40 vulnerabilities.
The OS is developed by Samsung and it partners that including leading companies such as Intel and Linux Association as well. But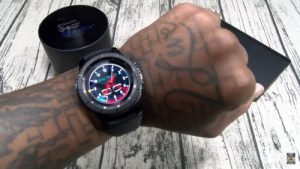 the Israel-based developer says that the platform is developed with worst codes he has ever seen.
The claims are not officially confirmed by Samsung, but according to a report published by Motherboard, Samsung has responded to its request for comments on this issue. The publication states that Samsung has released the following statement.
Samsung's statement reads, "We are fully committed to cooperating with Mr. Neiderman to mitigate any potential vulnerabilities. Through our SmartTV Bug Bounty program, Samsung is committed to working with security experts around the world to mitigate any security risks."
Samsung Gear S3 Frontier Watch is big and comes in solid stainless steel body. With a manly look, the smart watch wraps around the wrist very well as its thick bands provide perfect grip with the help of a shiny metal clasp.
People who love wearing a smart watch, have many reasons to convince themselves to go for Samsung's Gear S3 Frontier. Its barometer, altimeter, water and dust resistance capabilities and support for over 10,000 apps make it a great choice.
From GPS to SOS, wireless charging to making calls on the go, Samsung Gear S3 Frontier Watch features almost everything you can think of in a smart wearable. The 4-day battery backup also makes it a must have smart watch from Samsung. The watch comes equipped with Exynos 7270, Dual 1.0GHz chipset and also supports Bluetooth and LTE connectivity. But safety is more important than anything.
The claims regarding the operating system of Gear S3 Frontier Watch are majorly based on the use of old and borrowed codes. But Neiderman also highlighted the fact that the new codes are also not good because a large number of vulnerabilities discovered by him lie within the new codes.
Putting the technical jargons aside, the major concern raised due to these revelations is the safety of users. If such vulnerabilities are not fixed anytime soon, there are chances that someone can break into the system and put the privacy of users at risk.
Products such as Samsung Gear S3 Frontier Watch are being appreciated by a large number of people and many will surely buy it in the coming days and its potential successors as well. As Samsung has confirmed that there are many other devices scheduled for release, a majority of them will run on Tizen. So the presence of vulnerabilities will enable hackers to remotely control such devices from anywhere in the world.
Now when the products like Gear S3 Frontier with rich features are giving freedom to make payment through NFC (Near Field Communication) and MST (Magnetic Secure Transmission) technologies, it is highly dangerous for the users who simply rely on smart devices to manage their transactions needs.
Currently, Samsung Gear S3 Frontier Watch is the best in the market, but such issues are going to make it fail on many fronts. The reported vulnerabilities and lack of applications are the major drawbacks of this smart watch. With an awesome price tag, the Samsung Gear S3 Frontier Watch is ahead of all the smartwatches available, but Samsung will have to prove itself because this time, it's about the safety and protection of customers and their confidential information.
Staff Writer; Corey Shaw
Have any Tech Tips? News? Hit up our Tech Guru at; CoreyS@ThyBlackMan.com.