Striking A Balance Between Style And Comfort For The Modern Man In The Summer Months.
(ThyBlackMan.com) We all have an image to uphold, and we want the world to see the man we want to be. But in the summer months, when the sun is beating down, it can be tempting to reach for clothes on the more comfortable end of the spectrum, and lose sight of our sense of style. Honestly, it doesn't have to be that way. We can look sharp, polished, and suave, and still be comfortable in the heat of the day. Here are three situations where comfort and style are essential, and how to achieve that look.
In the office
Whatever the time of year, a professional appearance at the office is vital for our colleagues and clients to take us seriously. As nice as it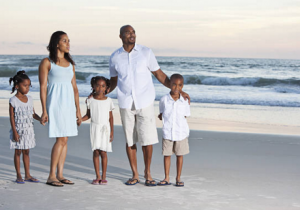 might be to head down in shorts and flip flops, it's unlikely that our employers would appreciate the look, even if it is more comfortable. The key here is to trade in heavy suits for smart, tailored pieces in light and natural fabrics. A well-pressed linen suit is a perfect compromise – the fabric allows your skin breath, but you still look sharp and polished.
On the beach
Looking stylish at the beach is about more than just throwing on a swimsuit and a baseball cap. You need the right swimsuit, the right sunglasses, hat, and shoes. Flip flops don't have to be tatty and uncomfortable. These sandals NZ are good quality rubber, so they're hard wearing, comfy, and pretty smart too. The beach is the perfect place to experiment with color – don't be afraid to go for bright swimwear, and even sunglass styles are bold and bright this year. The beach is the perfect time for experimenting with style, but comfort it a must. A straw hat is stylish and attractive, and it adds a timeless suaveness to an outfit in a way that a baseball cap just can't. They're also perfect for keeping the sun off and keeping you cool.
Socializing
Whether it's an evening with friends, or a Sunday in church, this is the time where style really comes into its own: you can pull off a slightly more laid back look, but still want to look sharp and keep cool. If shorts are your thing, try a pair of tailored shorts in a light fabric. This will help to keep you cool, but you won't look scruffy either. A pair of denim shorts with a shirt is on trend this year, and looks rather sharp. Shorts, flip flops, and a chef's hat is the perfect barbecuing attire, is it not? If you'd prefer to avoid shorts, stick to baggy, lighter, and natural fabrics that allow your skin to breath, but look sharp too. Bamboo fibers, cotton, and linen are perfect.
Trying to strike a balance between comfort and style when the sun is beating down can be difficult, especially when you need to look smart for church or the office. But lighter fabrics, still tailored and pressed, can be a great alternative to heavy suits and shirts that we wear in the colder months.
Staff Writer; Mark Moore