How to Become a Truck Driver.
(ThyBlackMan.com) Working as a truck driver provides a living wage, a sense of purpose and the opportunity to see the country. If you are out of work or looking to change jobs, becoming a truck driver is well within your reach. Let's take a look at how to make it happen.
Start with Schooling
The typical truck driver has at least a high school degree or a GED. Though this degree is not an absolute must, it will certainly help the candidate get his foot in the door for an interview and ultimately secure a position as a truck driver. It is worth mentioning that some of the top trucking companies refuse to hire candidates who do not have at least a high school/GED degree.
Be a Good Driver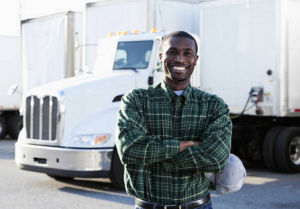 One's merit as a driver plays a significant role in his ability to score a job as a truck driver and hold that job across posterity. Trucking companies favor candidates with excellent driving records. If you have a few parking tickets, it will not preclude you from obtaining employment as a truck driver. However, if you have several moving violations or a conviction for driving drunk or under the influence of drugs, you will likely be removed from consideration for a trucking gig. If you have any traffic tickets, attend defensive driving or traffic school. Defensive driving will likely reduce your auto insurance cost. Traffic school could result in your ticket being completely dismissed or reduced to a lesser infraction.
Obtain Your Commercial Driver's License
Each state has distinct rules for obtaining and holding a commercial driver's license (CDL). Overarching federal guidelines also apply. Contact your local DMV to find out the nuances of these laws. Pick up your state's specific CDL handbook for important information. Most states require CDL candidates to pass a written test regarding equipment and laws. It is also necessary to perform a pre-trip vehicle inspection and put your driving skills on display. Many truck drivers surprisingly are also motorcyclists who know how to choose the right helmet. These driving candidates attend a driving school before attempting to pass these truck-driving tests. Just be sure to do your research to ensure the school is legitimate. Insightful information about such schools can be obtained by the American Trucking Association. You can also check with the organization you would like to work for to find out if the school you have in mind is approved.
Understand the Licensing System
The truck driving licensing system represents the many different jobs available. CDL classifications A, B and C represent a maximum size and style of vehicle that the trucker can operate. Determine which class is appropriate for your aims so you can figure out the endorsements and restrictions that are applicable. When in doubt, aim for the highest level of qualification.
The Federal Motor Carrier Safety Regulation Exam
The next step is to pass the Federal Motor Carrier Safety Regulation exam. Typically referred to with the acronym of FMCSR, this exam involves a hearing/sight component as well as a written component. Truck driving candidates must path both sections. The physical portion (sight/hearing) must be passed once every couple of years. The written section does not have to be repeated after being passed.
Pass the TSA Background and Drug Tests
If you are looking for a trucking position that requires a CDL endorsement for hazardous materials, TSA mandates a background check. This check requires the payment of a fee. Candidates must also pass a drug test to obtain work as a trucker. Subsequent drug tests must be passed in the months/years that follow. If you have any issues with your background or have done drugs in the recent past, it is prudent to clear those issues up before taking these tests.
Staff Writer; Greg Hall