Are Black Men still Heads of Household?
(ThyBlackMan.com) The phrase "head of household" is used by the U.S. Internal Revenue Service to describe an unmarried person who pays more than 50% of the costs of keeping up a home. In a marriage, this expression doesn't apply for tax purposes, but it still has significant meaning for many Black couples who try to define the order of their relationship. Some men desire to be in positions of power with everything and everyone following them.
Men are aware that a women respects a man that places his foot down for the right causes and does what is right for the overall team. But what he wants for his leadership is for her to keep things together when he gets weak, until he gains his strength back.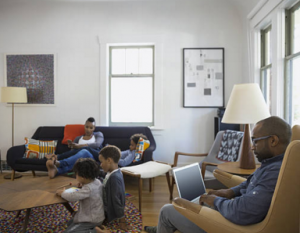 Couples, however you are grouped, are supposed to protect one another during trials and tribulations. They are supposed to push one another and fight through any hardship that comes their way.
A woman will often listen to a man gripe and carry on about being "head of the house" when he wants to enforce a rule, or make a stern decision about their lifestyle. Often, wives are subjected to domineering men who have mismanaged the idea of being head of the family. Being intimidating is an ineffective strategy that can lead to stress, debate, and trouble in the relationship. For Black men to understand what "head-of-the-house" means, we must first determine what it doesn't mean.
The reasons for African American fathers being away from their children are linked to external factors: unemployment; imprisonment; high death rates; and the imbalance of the male-female ratio. Joblessness among Black men meant separation from their families in order to qualify the mothers for state aid. Historically, Black males have always been incarcerated at a higher rate than those of White males . Black men in the United States die prematurely at twice the rate of White men and the rest of the nations populations. Traditionally there have been more women who are marriageable than men .Therefore, some children are born to older women who do not expect to marry the fathers of their children.
The major roles that Black fathers play are marital, provider, and child-socializing roles. To understand the developmental processes of parents and children of color, it is necessary to explore the intersection of social class, culture, ethnicity, and race to create integrative models for developmental competence. Some African American fathers live within the home and some live outside the home. Blacks have families of all types and have continued to exist within the supportive networks composed of kin, friends, churches, and the greater community.
These supportive networks are of many African American families. With increasing poverty, restructuring in the marketplace, and unending racism, they will continue to be essential to fathers and their families. In order to meet the developmental needs of fathers, mothers, and their children, it is necessary to assess accurately the roles fathers' play, the pressures under which they function, and who they are in reality.
Staff Writer; Amber Ogden
One may also view more of her work over at; AmberOgden.com.
Also connect via Instagram; 1amberogden and Twitter; MsAmberOgden.