Turning Your Garage Into A Chillout Pad.
(ThyBlackMan.com) There comes a point in every child's life at which they need a personal zone to simply unwind and have a moment's peace. Actually, that might apply to the parent in this scenario too. Perhaps this area could be a combination "chillout" zone. Whatever the case, a room dedicated to fun is the dream of children and adults of all ages, and there's nothing stopping you from making one.
Perhaps you're thinking that you can't simply magic up an extra room in your house dedicated to fun and relaxation, but there's an existing room you might not have considered: the garage. Sure, some people use this space for their cars, but if you're one of the majority who simply park your car out on the drive, then you've likely got a disused space which is probably only full of clutter you no longer need. Maybe it's time to turn this area into something useful. Here are some tips and tricks for turning your garage into a chillout pad.
Interior design.
This may seem like a weird place to start, but it's crucial to cre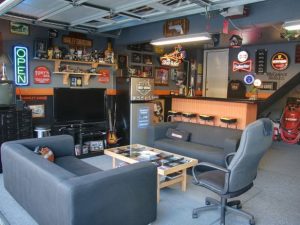 ating a fun, relaxing atmosphere. You can't expect the place to feel welcoming and comfortable simply by throwing down a sofa in the middle of your dull, uninspiring garage, full of old and unused DIY kits. You need to put some thought into the design of the room and give it that feel of a place dedicated only to fun. Instead of shelves littered with dusty household items, fill the shelves with board games or the boxes with footballs. Every practical item has no practical use in here. This is a place to get away from the everyday mundanity of normal life.
Furnish it with all the best toys.
This is the fun part. This is the part which truly motivated you and your family to consider this great idea for a room: the toys. You need to be kitting out the place with a pool table, a miniature basketball hoop (because who says you can't play indoors?), and you could look into a high-end gaming PC for some competitive family gaming. You want to keep the space light, airy and uncluttered so you don't need to go too overboard with the selection of gaming options, but it should be a paradise of fun. A game for every occasion should keep you and even the most demanding members of your family entertained at all hours.
Think about the neighbours.
You might want to soundproof the garage. This is supposed to be a fun place, and you don't really want to feel on edge every time you're playing a competitive game and trying to moderate your volume. Of course, you want to be respectful to people living nearby and not create too much disturbance, but you also want to let loose and go a little wild. Soundproofing the garage is the answer to both of these problems. There'll be no upset neighbours and no upset gamers who have to remain quiet.
Staff Writer; Charles Ross