The School-To-Prison Pipeline – A Major Problem In Alabama.
(ThyBlackMan.com) Last month, The Montgomery Public School Board released the numbers of suspensions from the 2015-2016 school year and I found these numbers to be very egregious.
Of the 31,000 students in The Montgomery County School District, there were about at least 4,000 suspensions that were handed out throughout the school year. Of those suspensions 833 were in elementary school and there were as twice as many in middle and high school.
Here's my take on this issue: When I saw the numbers of suspensions that were handed out throughout the 2015-2016 school year in Montgomery County, Alabama. I knew then that at least 90-95% of the suspensions that were specifically handed out to young African-American kids, particularly African-American boys between the ages of 5-15.
Many of the "teachers" in the Montgomery School System are caucasoid females from the suburbs and many of them aren't even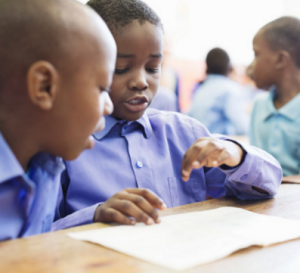 qualified to teach let alone properly evaluate the performance and success of African-American kids, particularly African boys.
I also noticed over the past several years that there has been a huge increase in the number of security guards, metal detectors, search dogs, and other security measures only designed for inner city schools to systemically criminalize and incarcerate young African-American kids, particularly African-American boys in the state.
I remember when I used to be in that system back in the day, I didn't have to worry about being searched, going through metal detectors, and all that other stuff because the public school atmosphere back in my day was much different than it is today. And the way that teachers had evaluated my performance as well as success in the classroom was much different back then than it is today.
Many female caucasoid suburban teachers these days come to school everyday already filled with preconceived biases about young African-American boys as "potentially criminal, scary, and violent" and they often use these harmful biases to force them out of the classroom and into the private prison system.
And as such, young African-American kids, especially African-American boys are more than likely to be suspended for the most pettiest of things like:
Writing On The Desk
Talking Back To The Teacher
Moving Around Class Too Much
Being The Class Clown
Having A Harmless Object
The Montgomery Public School System like other public school systems across the country these days are ran like modern day prison camps where African-American kids are systematically criminalized from the moment that they step foot on the campus and they are also negatively harmed by parasitic capitalists in that system so often because we often hear stories of it.
The Conclusion – This major example of parasitic capitalism in the form of the school-to-prison pipeline is why I fiercely advocate for the mass exodus of our kids from this corrupt, parasitic capitalistic, and destructive system known as the public school system because colonialist systems are never good for our kids to be in.
Staff Writer; Kwame Shakir (aka Joe D.)