Spring Break Travel Tips for the Family.
(ThyBlackMan.com) After a snowy, rainy winter in most parts of the country, and before the crowds hit the beaches and mountains for summer vacation; spring break is a treasured time for getaways for most American families. Vacations between February and April also can be easier on your budget and easier to plan. These days, you likely will find more families on spring break often with grandparents. But why not plan a spring break trip for the entire family.
1. Choose the right destination for your family
Discuss ideas for travel destinations and what to do during your free time; be sure each person has something to look forward to on the trip. All-inclusive resorts are a great option, with activities for kids, spas for parents, and beaches and pools for the whole family to enjoy together. Ski resorts are a nice choice, too, with options to ski, snow tube, or simply relax at the cozy resort hotel (plus end-of-season discounts).
2. Stick to your budget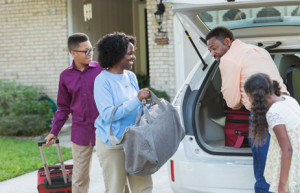 Don't blow your annual vacation budget in March or April if you plan to escape in the summer — prom season, end-of-year teacher gifts and extracurricular activities will be waiting upon your return! If the trip itself is more important than accommodations, opt for a budget-friendly hotel with extra perks, like a pool and complimentary breakfast, rather than a luxurious resort. Also allot a separate amount of money for the inevitable splurge purchases.
3. Take advantage of travel deals.
Many resorts and hotels offer deep discounts for spring break travel. Research the hotels and resorts in the area to which you'll be traveling, and compare prices. Oftentimes, simply booking your accommodations in advance can save you big money. See our deals page for hotel discounts in popular spring break destinations, such as Florida, California and the Caribbean.
4. Pack the essentials
Did you know some resorts don't provide conditioner (and instead charge double the price you'd pay at home)? You'll pay extra for other essentials, too, such as sunblock, swim diapers (required at many resorts and on most cruise ships), toothpaste and other toiletries. Be sure to ask what toiletries and other products are provided before packing your bags.
5. Protect yourself and your home
Sharing updates about your family's trip on social media can be fun, but dangerous. Do not state that your home is vacant during your trip. Instead, tell trustworthy friends and family that you'll be traveling, and ask them to visit your house once or twice to ensure there is no suspicious activity. Ask the trusted person to pick up your mail, spend some time with the lights on in the house, and to be sure all windows and doors are locked.
6. Travel on less popular days
Airline costs are higher and traffic is heaver on the weekends. Opt to travel midweek if you can. Also plan to leave a day early so you have time to catch up on sleep once you arrive at your destination, and then head home a day or two before it's time to go back to school and work so you have time to recoup and relax.
7. Make reservations for special experiences
Rather than stress about getting admission to museums, reservations at specific restaurants or tickets for the water park, make purchases and reservations in advance. Many attractions allow you to buy tickets online beforehand (usually at a discounted price). If you have plans to dine at a popular restaurant, make reservations at least a month or more in advance. And if staying at an all-inclusive resort, call the concierge and set up offsite excursions prior to arrival so you don't miss out on swimming with dolphins or snorkeling adventures.
8. Keep the kids on a routine.
Don't get too far away from your daily habits while traveling — coming home will be even harder. Sleep in, but wake up earlier on the last day or two prior to departure. Bedtimes should obviously be extended its vacation but don't overdo it or falling asleep on school nights will be tough once you're back at home. Try to stick to the same meal schedule, too.
What does your family do to when planning a family trip? We want to hear from you. Comment in the comments below.
Staff Writer; Amber Ogden
One may also view more of her work over at; AmberOgden.com.
Also connect via Instagram; 1amberogden and Twitter; MsAmberOgden.