Racial Tensions High: Asian Beauty Supply Owner Chokes Black Woman.
(ThyBlackMan.com) Missha Beauty store, located in Charlotte North Carolina, is owned by Sung Ho Lim who confronted the woman videoed because he believed she stole eyelashes. Lim insists that the woman did steal something and plans to release the surveillance footage to police. No arrests have been made. Lim, who employees said no longer works at the Wilkinson Boulevard store, filed a report with the Charlotte-Mecklenburg Police Department alleging "strong-arm robbery" by a woman, about 25 years of age and wearing a pink hoodie.
The report says that, when the woman attempted to leave the store, Lim blocked the exit and asked her to show him what was in her bag. The report says the woman refused "and a struggle ensued" before she fled in a silver Dodge sedan.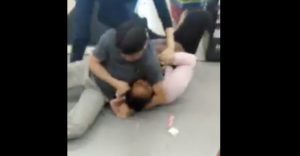 Lim and his wife physically and aggressively confronted a woman over stolen eye lashes priced at $3.99. She denied the allegation, and things got tense. Shoving ensued; Lim kicked the woman, knocked her to the ground, and put her in a choke hold.
"The female attempted to leave the store, but [the owner] blocked the exit and asked the female to show him what was in her bag since the alarm had gone off," police said, according to the outlet. "The female refused and a struggle ensued. The female then left the store and fled in a silver dodge sedan."
Lim told WBTV that he was just trying to keep her in the store until cops arrived. He publicly apologized for the attack." I don't know," he said. "It just happened. I went crazy. No matter what the reason, I feel very sorry to her and to them." Lim is admitting wrong doing and offered to apologize to the woman in person. "This is all my fault," he said. "I have to take the whole video and give it to the police. "Surveillance footage from the store has been turned over to authorities. Lim also filed a police report directly after the attack.
Community leaders and residents in Charlotte gathered for a protest at the store Sunday (March 12). "You cannot take police matters in your own hands. You can't act like the police," said Civil Rights activist John C. Barnett. "Whatever the case may be, we know he cannot be keeping someone in a choke hold, stealing or not."
One regular customer told WBTV she wouldn't shop at the store anymore after seeing the video. "When he was choking her, he was almost choking her to death. She was gasping for breath…"
Another customer, an African American woman said she will continue shopping there. "I feel like he did go a little too far," she said, referring to Lim's actions. "But he's got a right to protect his things." She said some in the media and the protesters are "trying to make this to be something it's not."
Have we had enough yet? Can we bring Black dollars back to Black Business?
Staff Writer; Amber Ogden
One may also view more of her work over at; AmberOgden.com.
Also connect via Instagram; 1amberogden and Twitter; MsAmberOgden.