What Really Matters: The Essential Startup Shopping List.
(ThyBlackMan.com) Setting up a small business is thrilling at times, terrifying at others. One thing that can be said for certain however, is that it takes a lot of consideration. Most people who start their own business are taken aback before too long by the sheer scope of it. There is so much to take on board, and it is quite likely that something will be forgotten, overlooked or abandoned too early. A big part of the startup process is setting up the office, even if it is just a small home office. There always comes a point when you need to figure out exactly what you need, and what is probably not so necessary. This post aims to give you a helping hand if you are stuck in that tough spot.
Furniture
This first concern can be a great cost, particularly for those businesses which are renting out some real office space, and it needs to be one of the first considerations for that reason alone. There is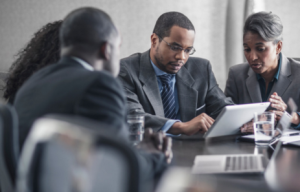 another important reason that furniture needs a clear focus in the early days too: anyone you might hire to work alongside or beneath you needs to be as comfortable as possible. With comfort inevitably comes a stronger work ethic, and this is essential in the first days of any business. Find furniture which is affordable, comfortable and formal, and you have struck small business gold.
Admin & Accounting Supplies
In many respects, your filing and accounting systems are one of the most important aspects of the small business. You don't need much in order to be able to keep decent, professional records, but you must make sure that you have everything you do need. It is clear that a filing system is necessary, even for a business which operates largely digitally. On top of that, you might want to think about finding cheap checks from a wholesale supplier, a variety of decent files, basic stationery for the office, and anything else which will help to keep you organised. Staying organised, and having the tools to do so, is likely to make a considerable difference in the long run.
Computer Hardware & Software
No business trading today gets very far without a computer. This might sound like an elementary concern to even have to mention, but there are those who believe they can run a successful business without the aid of computers. That is entirely plausible, provided that the entrepreneur in question is particularly savvy, but for the vast majority of business owners at least one computer is going to be necessary, and in most cases one per person is more likely to be the desired ratio. Remember the software too: depending on what your business does, there might be industry-specific software which can help you out greatly. Look for free, open-source software; it is rare that you need to spend money on software to get the results you need, and proprietary is not always the way to go.
Staff Writer; Eric Knight