The Ignorance And Immaturity Of Soulja Boy.
(ThyBlackMan.com) I personally don't keep up with urban celebrities let alone not even liking to writing about them at all because I personally don't like to write about things that really don't matter like celebrities, conspiracy theories, etc.
The only reason why I am writing about Soulja Boy is because the "Crank Dat" rapper made recent comments on Twitter that I personally thought were disrespectful, ignorant, and immature.
I am not a big fan of anyone in our community including urban celebrities like Soulja Boy putting out their personal business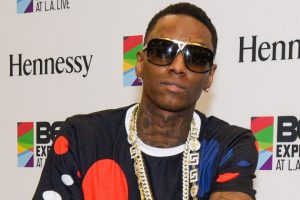 especially when it relates to family on social media because caucasoid people as well as negropeans are entertained by seeing us engage in drama, beefs, fighting that's on WorldStarHipHop, which is basically a poisonous cancer to our community as a collective.
This ain't the first time the rapper has made very disrespectful, ignorant, and immature statements because back at The 2008 BET Hip-Hop Awards, he said "I would like to thank the slave masters for getting us out of Africa" and of course there were many people within our community including myself that were personally disgusted with his blatantly ill-advised and disrespectful comment. That comment to this day is one of the most ignorant and destructive comments I've ever heard coming from anyone in our community let alone a urban celebrity.
Fast forward to 2017, Soulja Boy recently commented on social media in which he negatively stereotyped and disrespected his mother by calling her a "crackhead" and his younger brother a "broke b***h". I found his comments very disrespectful and disturbing. He also said that he gave his mother 100 G's aka $100,000 in which he later said that she blew through all that money in a week.
The way in which he made those disrespectful and ill-advised remarks on social media speaks to the low self-esteem and immaturity that a lot of young brothers like him have because they have a huge disdain for being raised in single mother homes because they can never learn the value and importance of manhood from a single mother as well as needing the mentorship and guidance from a strong father in the household.
The main reason why many young African men like Soulja Boy grow up in single mother households is because of the mass incarceration epidemic that has greatly devastated our family structure by systemically removing many African men men from the homes by giving them mostly egregious, draconian sentences for mostly nonviolent drug related offenses that resulted in far longer sentences.
Here are several negative effects that mass incarceration has on African men in America include
1) Abuse, rape, and torture from not only other inmates, but also race soldiers within the prison.
2) Fatherless homes in which many young urban boys grow up in
3) Sisters having difficulty finding quality brothers.
4) Their kids getting molested in many cases by their mother's boyfriend or other male relatives
5) Marginalization from society and the economic system.
The Conclusion – If I were Soulja Boy, I would definitely get help from getting mentorship and guidance from a strong brother that can potentially change his life for the better so that he can become a strong grown man that he was always meant to be, not the little boy that society wants him to be.
Staff Writer; Kwame Shakir (aka Joe D.)