Introducing President Oprah Winfrey.
(ThyBlackMan.com) Probable Dream or Unconventional Reality?
Now that Donald Trump has proved you don't need experience to become leader of the free world, some celebrities have expressed interest in becoming president. Among the names vying to succeed the real estate developer, only one is generating publicity— Oprah Winfrey. 
From a political point of view, imagine one of the world's most powerful women, occupying the White House. Now, imagine the hypocrisy of  those who feel the presidency is limited to individuals of the male persuasion. Before anyone unleashes their gender tirade, read the scenario below.
The year is 2026 and President Oprah Winfrey is analyzing the latest unemployment figures when she is interrupted by a knock at the door. Rising from her chair, the former talk show mogul is greeted by the Attorney General who quietly informs her;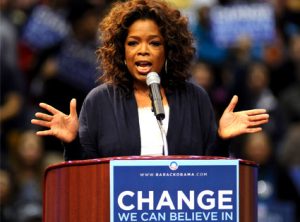 "President Winfrey your supporters want to know when they can start capitalizing on those promises you made four years ago?"
Adjusting her pearls, the president gestures toward a stack of documents on her desk. "What promises are those?" she asked. "Oh come on Madame President, don't you remember telling voters you would put them on Easy Street?" the Attorney General stammered. "Well I reduced taxes, cut unemployment by 38 percent and increased the minimum wage to $17.50 an hour," the president explained. "What else do they want?"
"Hey you know I've got your back Madame President. But they say if you don't solve all their problems over the next three years, they are going to run you down the road."   "They can't run me," said the president incredulously. "This is my second term in office. And you know by law I'm forbidden to seek a third term."   "Yes I know that and you know that" said the Attorney General with a strained frown, "but they say you're not taking care of business on the j-o-b."
Before she could address the Attorney General, the president heard loud voices from outside. Visibly agitated, Winfrey went to the window to see what all the commotion was about. Staring out the window, the president spotted dozens of protesters carrying signs. One poster which read "Winfrey is Funked up with the Tunkromp," caught her eye. Laughing, the president turned to the Attorney General. "You didn't hear a peep out of voters when Donald Trump made America the laughingstock of the world," she says with a hint of defiance. "Yet, they torment and rip me to shreds. What's up with that?"
Staring at his friend of 15 years, the Attorney General murmured, "When it comes to voters one thing is certain." "What's that?" asked the President. "No matter what you do for them, they still find something to complain about."
Moving from the window, President Winfrey began the long walk to her desk. Then the Tennessee native smiled as she thought about what the Attorney General said. "I hate to admit it A.G. but you are right," said the commander-in-chief extending her hand. "If I was a man they wouldn't subject me to this torment; but since I'm a woman, they figure I'm easy pickings."
The president, discouraged by the scene outside said, "Regardless of their behavior I refuse to let them see me sweat." Impressed by his friend's calm demeanor, the Attorney General replied, "Sounds like a plan to me."
Minutes later, Winfrey reaches into her desk, and pulls out a mug that reminds her of why she was elected by a huge margin over House Speaker Paul Ryan in 2020. The quote on the mug reads: "Who else but a woman can tackle any issue or problem, and stay calm, confident and in charge."
Okay, allow me to play Devil's Advocate. What if a woman finally breaks through that glass ceiling and becomes president? Can you imagine the comments that will ensue such as: "She thinks just like a woman," or "She's not strong enough to handle such virile issues as terrorism and  nuclear warfare." And at the first hint of a crisis, critics would denounce her with the disclaimer: "Only a man can wear the presidential mantle."
To reiterate, when a woman becomes president, her greatest crisis won't come from war. It will come at the hands of people who are convinced that men have a monopoly on the commander-in-chief  hierarchy. Therefore, to  anyone reading this commentary, Good night Madame President. Or should I give credit where credit is due and say, Rock On Hillary!
Staff Writer; Peggy S. Butler
One may also view more of this talented writer work over at; http://peggysbutler.com. Also feel free to connect via Twitter; http://twitter.com/peggybutler647.