Michael Jackson, Chris Brown follows his lead in 2017.
February 26, 2017 by Staff
Filed under Uncategorized
(ThyBlackMan.com) When Brown broke into show business as a 16 year old he was described as the future of R&B: the next Michael Jackson, the next big thing. Brown has a smooth singing style, plenty of dance moves and good looks. However, some of the luster was removed from his career when the multimillion-selling R&B singer was charged with felony assault in a 2009 domestic violence incident with former girlfriend Rihanna. Chris Brown has had six No. 1 singles in his decade-long career. His current single "Party" will be featured on his eighth studio album, slated to be released later this year
"I WILL BE THE GREATEST!," Breezy tweeted proudly before listing the Godfather of Soul and the King of Pop, and stating that he will be the third greatest in that order. "When knowledge speaks wisdom listens," he said. "JAMES BROWN, MICHAEL JACKSON, CHRIS BROWN. In that order."
@chrisbrown When knowledge speaks wisdom listens

@chrisbrown JAMES BROWN, MICHAEL JACKSON, CHRIS BROWN. In that order.
Reactions to Brown's comments were mixed as some fans were in agreement while others felt that the singer has quite a long ways to go before he can reach the levels of Brown. Chris Brown has definitely showed his love for Michael Jackson since the beginning.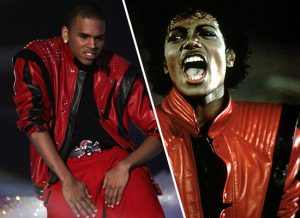 "My mama can tell you — ever since I was little, watching Michael Jackson on the TV screen and imitating him," he said in an early interview. In 2010, Breezy performed an emotional tribute to Jackson at the BET Awards that ended with him in tears. Breezy's dancing style is often compared to that of the late great Michael Jackson, and he's never held back on how much the iconic artist inspired his word.
As entertainers, however, Michael Jackson and Chris Brown are more evenly matched than reactionaries would like to admit. They're both supremely athletic showmen. If Michael Jackson briefly resurrected and in a "Devil Went Down To Georgia"-type situation challenged Chris Brown to a glittery dance-off, Chris Brown might could moonwalk off with MJ's fedora. Not necessarily, but the competition would be close. You never know. Additionally, Chris Brown can rap. Michael Jackson couldn't but MJ was iconic.
Chris Brown is a millennial avatar of black pop, perhaps, but I doubt that "Run It" and "Loyal" will age as gracefully as "P.Y.T.," "Thriller," or "Bad," which aren't even my favorite MJ songs. ("Off The Wall," "Dirty Diana," and "Remember The Time," duh.) Michael Jackson was a tremendous singer and revolutionary pop performer who desegregated MTV and set several dozen international music sales records in the course of his 44-year career. Chris Brown isn't too far behind in his own making his own way.
Staff Writer; Amber Ogden
One may also view more of her work over at; AmberOgden.com.
Also connect via Instagram; 1amberogden and Twitter; MsAmberOgden.