Janet Jackson, Rihanna follows the GOAT entertainer in 2017.
(ThyBlackMan.com) Style chameleon Rihanna changes her hair often, remember that time she had long dreadlocks. She teamed the long locks with a vintage Tupac shirt and leather pants. RiRi appeared to channel Janet Jackson's famous look from the 1993 film "Poetic Justice", which also starred Tupac. Rihanna may have surpassed Janet Jackson's record in hairstyles, fashion and lately music, but she won't surpass Janet Jackson "Ms. Jackson if you nasty" in dancing.
Rihanna turned 29 Monday, and this week she has more than a birthday to celebrate. Mashable reported Tuesday that the singer has broken Janet Jackson's brother Michael Jackson's record for the most top-10 Billboard singles. Billboard reported that Rihanna has earned her 30th top-10 hit on the Billboard Hot 100 chart with her single "Love on the Brain" from her latest album, 2016's "Anti."
The ranking means she has broken her third-place tie with, Michael Jackson, who had 29 top-10 singles as a solo artist. Rihanna's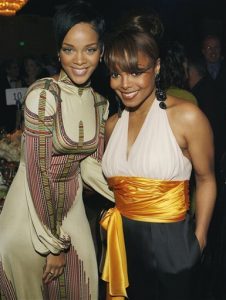 introduction to the chart came in 2015, when she got her first top-10 hit with "Pon De Replay." She's is only second to The Beatles for the time it took for her to get 30 top-10 singles on the chart in 10 years. It took The Beatles five years, nine months and two weeks to do the same from 1964 to 1969. Interestingly, one of Rihanna's singles in the 30-song tally includes "FourFiveSeconds" with Kanye West and former Beatle Paul McCartney.
Now let's not forget who paved the way for Rihanna. Janet Jackson was a trendsetter and she revolutionized the dance world with great music videos and won many accolades for her albums that were very deep. But Rihanna has such unique and distinct songs. What other artist could make songs from Pon de Replay to Russian Roulette to Take a Bow and then to songs like S&M and B*tch Better Have my Money and make it all work? Her sound is like nothing else, and just like her style, she also really pushes the limits with her music, too. Look at her. Look at the way she carries herself.
Rihanna is the definition of poise and confidence with the perfect amount of edginess just like Janet Jackson. From her 2007 single when she offered shelter under her umbrella-ella-ella, Rihanna has publicly demonstrated she's not your average superstar. She's stunning but unpredictable, and you love or hate her because of the relationship she has with the rest of the world. Rihanna may always seem spontaneous and true to herself, but she's also super professional. She's always in the gossip mags and the media for her life and also her Chris Brown scandal, but every time she demonstrates that she knows how to handle herself with grace. She doesn't feel the need to justify or conceal her mistakes. Like Janet Jackson did in her Superbowl boob show. Rihanna has a true relationship with her fans and she owns the stage like Janet can still do today.
Fans will be standing by for what's next from the both of them in the upcoming year.
Staff Writer; Amber Ogden
One may also view more of her work over at; AmberOgden.com.
Also connect via Instagram; 1amberogden and Twitter; MsAmberOgden.