Black Patriots Players Defy Double Standard.
(ThyBlackMan.com) Granted I am not a Patriots fan, but I do love football. Sports does have a way of bringing people together, and sometimes this means they will be the reflection of certain social issues. Being an athlete doesn't make one stupid, nor devoid of a voice. Too many times we hear people say athletes should just be quiet and play their respective sport, but when social issues arise the same voices condemn them if they are silent.
Many expect athletes to put their money into causes that affect community, but they aren't to voice their perspective. Furthermore, it is widely known that black athletes must live within a double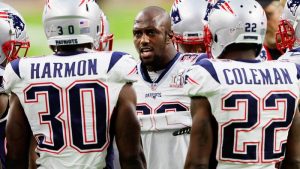 standard when it comes to speaking up for what they believe in. Granted, the issues that black athletes unfortunately have to address are some their white counterparts don't have to face.
Black players, usually, have to be concerned about the backlash of their actions even if they are well within their rights. They must be concerned about how their team owners, coaches and team mates would feel even when the stance is personal. Their white counterparts tend to make decisions without the same pressures. It was not surprise that some the Super Bowl 51 Champion New England Patriots players would not be attending the White House after their win. The truth is some have openly made it clear they do not support the current administration, and furthermore they do not feel they would be welcome.
"I won't be going to the White House," Patriots running back LeGarrette Blount told NFL Network host Rich Eisen. "I just don't feel welcome in that house. I'll just leave it at that."

Devin McCourty's reasoning was similar to Blount's: "I don't feel accepted in the White House," he told Time. "With the president having so many strong opinions and prejudices I believe certain people might feel accepted there while others won't."
It is important to note that Tom Brady did not make the trip to the White House under the Obama administration. This should not be news, but the problem is black players decided to make their own decision regardless of the team leader, coach or owner. Tom Brady, Bill Belichick and Robert Kraft are known supporters of the current administration and that is their choice. However, those choices are personal and not team decisions. Tom Brady not attending the White House under Former President Obama was also a personal, for whatever reason, decision. There is a clear double standard that black players are willing to, and should, defy. Athletes, just like other citizens, have the right to speak out about issues that concern them. Just as Tom Brady's absence didn't require scrutiny and explanation neither should these players. It is to be respected that they are choosing to stand behind their personal decisions as did their teammates in the past.
It's time to own the fact that ALL of our people have the right to stand up…not just our leadership and scholars. Every sector whereby there are black people there is something to deal with. I must say I am not a Patriots fan, but I respect the stance of these players, and they should not be penalized for choosing not to attend the White House under an administration that really doesn't mean to really welcome them.
Staff Writer; Christian Starr
May connect with this sister over at Facebook; https://www.facebook.com/christian.pierre.9809 and also Twitter; http://twitter.com/MrzZeta.