Barack Obama, Not Your Magical Negro.
(ThyBlackMan.com) In a recent Huffington Post article, Dave Jacobson and Maclen Zilber, seeing the "carnage" that Trump is producing and proposing, suggests that it is time for our former president, Barack Obama to "break his silence." They write, "Now, at our darkest hour, we need our nation's greatest communicator to dust off his sneakers and get back into the fray."
While acknowledging that Barack Obama has "given everything" he "had for us" and that we "don't have any right to ask [him] to sacrifice a moment longer," they write that the "American people need your talents, we need your voice, we need your quill, and we need your moral authority." And then, as if they are in some school yard setting, they actually taunt the president when they close with this attempt at playing the dozens: "You said last fall that you would defeat Donald Trump if you went toe-to-toe against him. It's time for you to prove it."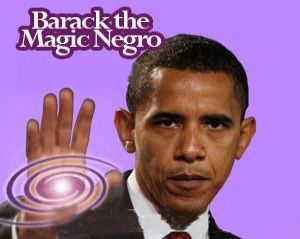 Not to get into why does Barack Obama have to prove it or why they even think that Obama saying anything will help, I simply suggest that Bracl Obama not only does not have to say anything about what Donald Trump is doing and he has nothing to prove to anybody as well. Why? Because in the last days of the campaign Obama TRIED to tell us about Trump and about what it means to be president of the United States. In speech after speech, he laid out an argument not only for supporting Hillary Clinton, but also for NOT supporting Donald Trump. What Jacobson and Zilber see in Trump is what Obama tried to warned us about on the campaign trail.
In a rally in Columbus Ohio, one week before Election Day Obama told us that "Donald Trump is uniquely unqualified to be President. He is temperamentally unfit to be Commander in Chief." When some wanted to "trump" Trump's "populist leanings,"Obama again tried to tell anyone who would listen, "The notion that this guy is going to fight for working people, when his entire life he did not have time for anybody who wasn't rich or a celebrity, who wouldn't let you into one of his hotels unless you were cleaning the room, wouldn't let you onto one of his golf courses unless you were mowing the fairway—come on! This guy is going to be your champion?"
On foreign policy, Barack Obama tried to warn us again. "We can't afford a President whose brain has suggested that we should torture people again or ban entire religions from our country." However, the big warning from Obama came when he tried to tell us about the office of the president. Obama said, "Let me tell you something about this office. Who you are, what you are does not change once you occupy the Oval Office. It doesn't. It all—the only thing this office does is, it amplifies who you are. It magnifies who you are. It shows who you are."
Finish story here;
http://www.patheos.com/blogs/rhetoricraceandreligion/2017/01/obama-doesnt-have-to-save-us.html