Dr. Martin Luther King Jr. – The Dreamer Lives!
(ThyBlackMan.com) Never forget. Never falter. The unconquerable endurance of Dr. Martin Luther King Jr., lives on!
Beneath the lush golden sky symbolizing the Deep South, a nostalgic haze looms across the terrain. On this poignant afternoon, visitors at the King Center in Atlanta, are deep in thought, as they commemorate the annual holiday of America's perennial Black leader.
Thus, in remembering "The Dreamer", it is only fitting that we pay tribute to the most prolific civil rights activist of the 20th century. So without further adieu, I present "The Dreamer Lives."
The winds of hate and turbulence seared the heart of the South in the racist charged 50s and 60s.  But, as the years progressed, Blacks stopped shuffling to White America's dance of servitude and created their own waltz of deliverance from bondage. And the man leading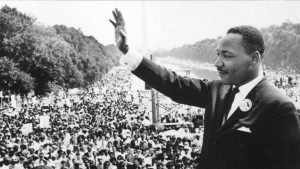 Blacks to freedom, after centuries of captivity, was Dr. Martin Luther King, Jr.
To people unfamiliar with the fiery preacher, he was just an average man.  However, there was nothing average about this Georgia native. He was remarkably charismatic, with the wisdom of a prophet, and the voice of a snare drum rumbling across the universe.
King was on the surface, an influential minister who called on love and vindication to quench the raging fire of bigotry. In 13 years (1955-1968), he boldly marched his people into the Promise land, as did Moses with the Israelites. Then slowly and methodically he changed the landscape of America's racial divide.
For 400 years Blacks were told to wait. Wait for justice. Wait for equality. Wait for the right to vote. Now the wait was over, and Redemption was dawning.
He was our gallant warrior, battling a vicious White establishment that continued to inflict second-class citizenship upon its Black citizens. King was both a leader and a strategist. His efforts to unite the oppressed and the free brought him many awards, including the Nobel Peace Prize. King's vehicles of protest were the sit-ins, marches and boycotts. "We Shall Overcome" was his rallying cry, and the cities of Selma and Montgomery, the battlegrounds where he fought for our rights.
He showed a nation of  discontented  Blacks, why they could no longer remain buried under the shackles of oppression. As America's perennial Black leader, he often wondered why he was chosen to bear such a heavy cross. Thus, upon his shoulders we hoisted our hopes and dreams, and he never complained. Often the ghost of uncertainty haunted him with relentless zeal. Still, he held firm to his beliefs, and with us as his disciples, he was victorious.
Keeping the Dream Alive in the 21st Century
Each year Americans of all races set aside their differences and pay tribute to the grandson of a former slave who fulfilled the Biblical adage, "He who is last shall be first, and He who is first shall be last." It is not enough to remember Dr. King; it is also necessary to vindicate him by letting his light shine in our lives. As African-Americans, we are challenged to bring his dream to fruition.  And we can do this by believing in ourselves and using every resource available because of this great American.
Beyond all that, we remember his most touching creed, hope. For Dr. King never stopped hoping. He never ceased to believe the Dream and the Dreamers would prevail. And if he could speak to us from beyond the grave, he would tell us that nothing can stop us, if we keep the faith. Hence, his memory lives on, and so we go forth, knowing there is still much work to be done, before we are truly, "Free at last, Free at last."
Staff Writer; Peggy S. Butler
One may also view more of this talented writer work over at; http://peggysbutler.com. Also feel free to connect via Twitter; http://twitter.com/peggybutler647.