Why These Skills Can Secure Your Future in the Professional World.
(ThyBlackMan.com) No matter what kind of professional position you are seeking, there are some skills that should be common to all professions, on all levels of the corporate ladder. Whether you are looking at careers in nursing or a position at a software development company in Silicon Valley, these basic skills are what will stand out on your resumé, getting you to that final stage, the interview. So, what are these skills? Here are a few of them to focus on.
Excellent Communication Skills
It doesn't matter if you are writing a memo or speaking with a fellow employee, employers want to know that you are able to say what you mean, mean what you say, and above all, be expedient with words. There is no time on the job for miscommunications and so, whether you are enumerating nursing resumé skills hoping to get interviewed or directing a team on your latest project, your grasp and use of the English language is an absolute must.
Excel as a Team Player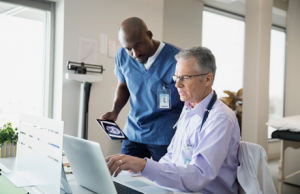 What today's employer is looking for is someone who will willingly work together with a team to get things done. It has long been known that what one person can accomplish well, several can do better. It's a matter of the way we all see things. When working with a team each person has his or her strong points they bring to the table and when added together, the results are amazingly better than when one person completes tasks alone.
Leadership Qualities
Are you able to take the bull by the horns to get things done while delegating responsibilities to others? A true leader knows that they are not invincible and thus is willing to bring others along with them towards the finish line. It is good being a team player, but it is better being a team player who is well respected by the group and is able to draw upon the strengths of all those they are working with. A true leader leads by example, not by words and so is not afraid to put a little muscle into everything the team does. However, without a leader, teams tend to flounder in the dark.
Do others see you as a mentor, as someone who knows how to guide them when they are unsure of their way? Today's employer knows he or she is not an island and will seek other leaders much like they are – willing to lead but equally willing to get in there and work alongside the team.
Summing up Your Skills
These are all skills, qualities if you will, of a person who has what it takes to go places in the professional world. Sometimes referred to as 'soft skills' as they aren't what you learn in college, they are people skills usually inherent in your makeup and fine-tuned along the way. Highlight soft skills in your resume and see how easy it is to make it to the interview. Looking for the right job? Don't forget to list these skills because they are just as important as that piece of paper you now hold in your hand.
Staff Writer; John Graves