Bobby Bowden: Coaches' comments about single mothers off the mark.
(ThyBlackMan.com) Two extremely successful head coaches from two of the most prominent sports in America have made interesting comments about single mothers in recent weeks. Former Florida State football head coach Bobby Bowden and former NBA head coach George Karl are not currently coaching in college football or the NBA. However, that has not prevented them from making unusual comments about some of their former players and more importantly single mothers. The comments made by both Bowden and Karl actually say more about them than the men they are critiquing or the women they are insulting.
George Karl was an NBA head coach as recently as last season for the Sacramento Kings. He has had a significant amount of success in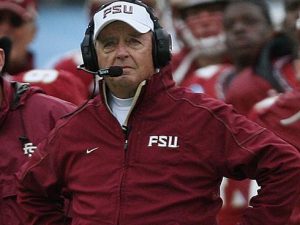 his length career as a NBA head career that spanned over 20 years
including winning 1,175 games and being the 2012-13 NBA Coach of the Year. It seems that he wants to leave a different legacy than that of his on-court success with some of his commentary from his new book "Furious George". While Karl writes about his former players like Carmelo Anthony regarding their basketball weaknesses, there is a line that he crosses when he describes Anthony and fellow teammate Kenyon Martin, who both played for Karl on the Denver Nuggets. Karl wrote about the fact that both Martin and Anthony, two black men, were raised without fathers, by writing,"Kenyon and Carmelo carried two big burdens: all that money and no father to show them how to act like a man,". Martin understandably took offense to the comments through a series of strong tweets in response while Anthony took a different response.
George Karl's fatherhood comments about former players did not deter former Florida State coach Bobby Bowden from echoing a similar sentiment earlier this month. Bowden, who is one of the all-time great coaches in college football history, was interviewed on ESPN earlier this week and brought up the topic of athletes not having fathers. His statement was eyebrow raising as he said, "During my last days at Florida State, 65 to 70 percent of my boys did not have a daddy at home. A boy needs a male figure, and the girls do, too. Somebody to discipline them and make them be a man. I used to kid about this, they grew up wanting to be like their momma. They want to be a man like their momma, that's why they wear earrings." While Bowden did also "thank God for them mommas, or grandmommas. Or big sister, or aunt" that raised his fatherless football players, the joke about manhood as it related to jewelry and being raised without a father, smacked of a high level of ignorance and immaturity even if Bowden is currently 87 years old.
The comments from Bobby Bowden and George Karl about manhood as it relates to the black male athletes they coached are insulting to the men they coached and their mothers. The facts about black fathers that are absent have been well chronicled. However, the actual data about black fathers who live apart from their kids is much different than the mainstream narrative. Ultimately, it is troubling that Bowden and Karl are deciding that there are inherent deficiencies of professional athletes and college football players at the high level if they lack fathers as if their other influences in their lives cannot produce men of the highest quality. It takes a village to raise a child and oftentimes single mothers use their skills and those of their village to raise boys into men.
Staff Writer; Mark Hines