J Cole's "4 Your Eyez Only" Speaks Truth.
(ThyBlackMan.com) J Cole's new album "4 Your Eyez Only" is a thought provoking. It shows the growth of Cole as a storyteller. The amazing concept of the album is from the first listen you'd think maybe it's about him…or you'd ask yourself did Cole sellout. However, when you listen again you'd realize he's allowing the dead an opportunity to speak. The production along with a bit of J Cole harmony makes for a dynamic body of work that can be at times eerie, beautiful and as always blatantly honest.
Track #7 "Neighbors" tells the tale of racial profiling no matter how much money you have; nor how much success you have acquired. The song is a conversation piece regarding the question was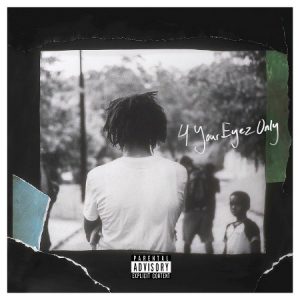 integration the best choice for us. Granted it is good to be able to live where you'd like, but some are beginning to question the safety of living in predominately white neighborhoods. Cole's imagery is a harsh truth in the face of "I should be able to do what I want". He summons the memory of Trayvon Martin as he explains the songs dilemma.
"Some things you can't escape/Death, taxes, NRA/It's this society that make/Every nigga feel like a candidate/For a Trayvon kinda fate/Even when your crib sit on a lake/Even when your plaques hang on a wall/Even when the president jam your tape/Took a little break just to annotate/How I feel, damn it's late/I can't sleep 'cause I'm paranoid/Black in a white man territory/Cops bust in with the army guns/No evidence of the harm we done/Just a couple neighbors that assume we slang/Only time they see us we be on the news in chains, damn/Don't follow me, don't follow me/Don't follow me, don't follow me"
J Cole doesn't sugar coat anything in this song, making it one of my favorites on the album, he come out from the beginning stating: "Okay, the neighbors think I'm sellin' dope". That's important because regardless of presentation this is how some white people view black men. They are violent and sell drugs…even when that is the furthest from the truth. The song was been born out of a situation whereby neighbors in a North Carolina suburb where Cole purchased a house for his team to work out of called the police in what looked to be a case of racial profiling. Co-Producer Elite, in an interview with Complex, spoke on the origins on "Neighbors" confirming it was inspired by actual events.
"Basically Cole rented out a house in North Carolina. It's not for him; it's like a safe haven/creative workspace for all the Dreamville artists and producers. We call it the Sheltuh, and a lot of the album was recorded there… It's basically a studio in a basement, in the woods. It's also in the suburbs of a pretty wealthy neighborhood in North Carolina. So you have, predominately, African-Americans coming in and out of this house. Ubers coming, and every once in awhile you'll see a group of us outside on the porch smoking weed. So the neighbors started getting real paranoid. Apparently what happened was, we were all in Austin, Texas, for SXSW; thankfully no one was in the house when this went down. One of the neighbors told the police we were growing weed or selling drugs out of this house. And there was a huge investigation, like a million-dollar investigation.

They flew helicopters over, sent an entire SWAT team armed with weapons, broke down the door and searched the whole house. Thankfully nobody was in the house. Our engineer Juro "Mez" Davis had just stepped out for lunch and he came back and saw the SWAT team busting down the door. They go downstairs and all they see is a studio, and obviously they felt stupid. It's just crazy ironic because out of anybody, they picked the wrong person. J. Cole is the last person to do anything like that. He's out here doing extremely positive things for the community and for young artists. Because of obvious racism from the neighbors, the police were called and a raid took place."
J Cole isn't alone in experiences like the one mentioned above. White teenagers, Frat guys and such are loud, smoke weed, and have their devious moments but it doesn't warrant neighbors making accusations to the police that would involve a SWAT team. Some blacks feel they have earned what they have, and will continue to live in suburbs whereby they are the minority. However, there are some contemplating moving to be around their own kind. At the end of this song J Cole is disillusioned with integration questioning what he was thinking moving to that environment. Basically he's moving back to the Southside after that madness.
I definitely recommend listening to this album. It may not be the type of album you wake up to, but it's one that is needed on a regular basis. As always J Cole uses his platform to tell the blatant truth, and give a voice to a friend that no longer has one. Many will be able to relate to the love, joy, humility, realizations and pain the album embodies. Check it "4 Your Eyez Only"; I hope one day we won't have to worry about "Neighbors".
Staff Writer; Christian Starr
May connect with this sister over at Facebook; https://www.facebook.com/christian.pierre.9809 and also Twitter; http://twitter.com/MrzZeta.