A Must-Read Guide to Starting a Shipping Company in 2017.
(ThyBlackMan.com) When people think about modern startups, they usually think of modern technology. They imagine that most startups are going to concern themselves with games or cutting-edge hardware. If not those, then software, or websites, or strange new apps. People rarely give a thought to entrepreneurs who might want to start a business without something more traditional in mind.
Of course, 'traditional' can be an odd word. What I mean in this context is the sort of business that could have been started before the dawn of the 21st century! So what kind of companies fit that criteria? Well, one thing that comes to mind is logistics.
Startups concerned with shipping are more popular than you might think. But it's true that you probably haven't heard about many big names taking over the industry for a few years. But this doesn't mean that it isn't a field rife with hot-blooded young entrepreneurs!
We're going to be taking a look into the business of starting a shipping company. What exactly is involved? What do people need to concern themselves with? And what companies are out there making waves in logistics at the moment? If you're interested in starting a shipping company, then this is essential information.
Considering the logistics type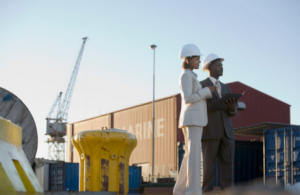 When people think about shipping, they think about transportation. And, of course, "transportation" can be a pretty vague term. People will have ships, boxes, vans, trucks, cars, airplanes, crates all coming to mind. And this may excite a budding entrepreneur eager to get into the shipping business. But you need to keep things realistic. Sure, perhaps one day you could have your hands in all of those cookie jars. But a startup has a long way to go before then!
When you're starting out, you need to focus on a limited amount of transportation options. Are you going to be using mainly trucks and cars? Are you going to be looking into shipping overseas? Are you going to keep it local – perhaps by using something as simple as bicycles?
It's not just the type of transport you have to consider, either. You're going to be working with clients – you need to decide what kind of clients you want to work for. That means you have to work out the type of logistics company you'll run. You might do third party logistics or fourth party logistics, inbound logistics or outbound logistics. It's important to know your way around the different types of logistics before you really get into things.
Competition and inspiration
If you're going to start a business of any kind, you have to find out as much as you can about the competition. Even if a company isn't a direct threat to your business, if they work in the same field and are notable then you should look into them. Competition isn't something you should be particularly worried about, by the way. Competition in business can be great. But only if you know how to play your cards right!
Many people looking to start a shipping company is probably going to be aware of some of the bigger names out there. DHL Logistics, of course, are still the number one, coming out on top year after year in terms of revenue. But there are plenty of other logistics companies that dominate the field at the moment.
Of course, it would be a little foolish to only pay attention to the big fish. After all, they're rarely the ones you actually need to worry about. Nor are they the ones you'll necessarily get inspiration from. They started their businesses decades ago. The way startups go about things these days is dramatically different. So it's important that you also look the the companies who have just started out recently and are seeing great success. There are more promising shipping company startups than you may assume!
Where's your experience?
It's surprising how many people out there want to start businesses without actually have any experience in the chosen field. Such enthusiasm to start a business is great – after all, we're definitely in need of more entrepreneurs. But starting a business without any experience in the chosen field? This could be a very unwise move. After all, how can you be so sure that you know what you're doing? Or that you'll even enjoy the work? Or – perhaps, most importantly – that you'll get the capital you need? Lenders will look at your lack of experience as a sign that you're a dangerous investment.
If you do have a lot of experience in logistics, then that's great. You need to use this to your advantage. During your time in this profession, you've likely gained a bunch of contacts. Now is the time to put those contacts to use. Previous clients could become new clients for your business. Experts you used to work with may be willing to come work for you. Any market connections you have in logistics will come in extremely useful here.
The work experience itself, of course, is absolutely vital. Preferably, you'll have some sort of management experience. This doesn't necessarily have to be in logistics. You could have a strong history of working in logistics and managerial experience in another field. Both will work to your great advantage. Going in without such experience isn't necessarily impossible – but it's not recommended.
Getting armed with the right equipment
You may think that you need to jump towards getting capital as soon as possible. But before you do that, you need to work out how much you're actually going to need. And in order to do that, you need to identify what kind of things you're going to need to be. Which means that you need to start thinking seriously about what equipment you're going to get – and where you're going to get it from!
Most logistics companies work in trucking. So it's fair to say that the chances are high that you're looking to start this sort of company! A fleet of trucks, of course, isn't cheap. But it's not just trucks you're going to need. You're also going to need people who can drive those trucks. You'll need insurance to cover all of the vehicles. You may need a factoring company for truckers for unpaid invoices. You're also going to need licenses, which we'll dip into briefly a little later.
But when it comes to vehicles for any type of shipping, your options are more varied than you may think. Let's say you're thinking about performing overseas shipping. You don't need to look into the full expense of new ships. You can actually look into second hand ships for sale at NautiSNP, for example. Always make sure you shop around properly when it comes to equipment. The first option you find may not always be the most cost-effective!
Acquiring capital
And so we come to the part that could really make or break things. It's the part that all budding entrepreneurs worry about – unless, of course, they already have the capital! Sure, there are businesses out there that don't require as much capital as people think. Maybe you were hoping that a shipping business was one of those businesses. Sorry, friend! Starting this sort of company is definitely going to come with a heavy price tag. There's too much you need to acquire when it comes to equipment. Vehicles and containers are rarely so inexpensive that you won't require financial help of some kind.
A lot of people will think immediately of getting a loan from a commercial bank. But this might not be the best solution for everyone. But they're the most likely institution to provide you with the large sums of money you're going to need. You'll need a damn good credit rating, though!
The other options available to you is a grant from the U.S. Department of Transport. Quite a few people know that you can get grants from the government if you want to start an agricultural business. But there are other lines of work the government is willing to help you out with – and shipping is one of them. This isn't to say that getting this kind of grant is going to be easy. But it's definitely an option you should be looking into.
The license
One thing you don't want to do is get in trouble with the law. But if you decide to start taking on deliveries without a license, that's exactly what's going to happen! You need to remember that this is going to take more than simply registering your shipping business with the IRS. You need to ensure you have the right license from the correct transport authorities.
Let's say, for example, that you're getting yourself a ship and delivering overseas. You're going to need to get in touch with the U.S. Federal Maritime Commission. They'll be able to license you if you fit their criteria. If you're keeping things on the national roads, you still need to look into interstate vehicular delivery laws. If you send things to other countries, you'll need to get in touch with the relevant transport authorities of the target destination.
Staff Writer; Barry Brown