Open Gym Vs. Fitness Class: Which is the Best Option for You?
(ThyBlackMan.com) Getting exercise should be a major priority but many people struggle with finding a routine that works best for them. There are open gyms that allow you to work out at your convenience, as well as fitness classes that offer you a more structured atmosphere. The best option for you will depend on your lifestyle and goals. There are pros and cons to each.
Fitness Classes
Fitness classes provide you with a specific routine. You do not have to be stuck in just one class doing the same routine consistently,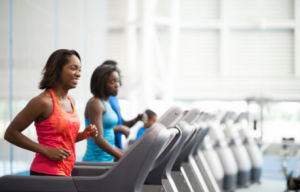 however. There are classes that operate for a set duration, allowing you to move onto another activity at a later date. You may even take multiple classes at once, as long as they are set at different times. At Fitness 19, for example, there are spin classes, Zumba classes, aerobics, boot camp options, a Senior Strength course, and much more. You should look into the various class options to determine if there is one or two that are right for you.
Pros
The variety of class options is a major pro. You can choose to focus on one fitness aspect at a time, such as taking Zumba classes for a few fun weeks or joining a boot camp to get into shape.
It is worthwhile to take a fitness class due to the fact that an expert instructor is available at each session. If you do not know how to perform a certain exercise, the instructor can guide you. They will work toward helping you achieve your fitness goals, and ensure you stick to them.
Cons
You can only work out during a specific time. All classes have a set schedule that you must stick to in order to participate. It may mean cutting other activities short in order to ensure you can make it to your session.
Open Gym
An open gym concept works well for many people. You can enjoy a workout at your leisure, heading to the gym whenever your schedule permits. There is also such a wide variety that allows you to get in a well-rounded workout. You shouldn't spend your entire time running on the treadmill, and should instead switch up your routine to incorporate more options. There are ineffective workouts, and effective ones.
Pros
You can work out at any time you please. Many open gyms are open 24 hours a day, allowing you to come and go as you please. Others are set at typical business hours, but this still allows you to choose a timeframe for your workouts, whether you need to go in the morning before work, or wait until after.
There is a huge variety of workout equipment available. You  can use the treadmill to get your heart pumping, then head over to the free weights to improve muscle mass. With so many options available, you can make the workout your own and tailor it to your specific goals.
Cons
You could spend a lot of time waiting around for a machine. There are many machine hogs in an open gym that keep the best equipment to themselves. If you go at a busy time, it could mean even more waiting around.
With a variety of pros and cons for each option, it is truly up to you to determine which choice works best for your needs. An open gym concept will allow you to work out at your own pace, but you may have to wait for others to get done with the machines you want. A fitness class will allow you to focus on a specific goal, with an instructor there to guide you. However, you are at the mercy of their schedule. Consider the pros and cons of each option and decide which workout routine will work best for your lifestyle.
Staff Writer; Shawn Jackson