How Do Doors Play A Role In Home Security?
(ThyBlackMan.com) Doors First Before Locks, Says Locksmith in San Diego
If you're planning to build a new home or if you will move to a new apartment, your concerns are locks – not doors. Truth is that these should be your first concern before you hire a locksmith to install new locks. You may have the best lock, but if your door is poorly constructed or the materials used to make it are substandard, you can never be sure of the safety of your home and the entire household.
Your doors should be made of high quality materials, such as steel, wood, fiberglass and glass. Woods are the top choice because they can survive the majority of weather conditions. However, wood doors can get distorted and rotten that they should be maintained. You should consider using high quality and heavy wood like oak.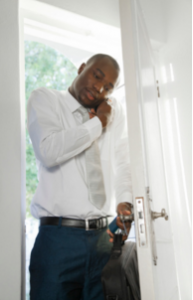 Glass doors can make your home look modish, but consider using textured glass to avoid compromising your security and to still let light in. More important, choose shatterproof glass.
Steel doors are best for locations that are mostly dry to avoid rust. Partner this with a steel frame for utmost security. Some homeowners make a mistake of using wood frame so don't be like them. One material that is as sturdy as steel is fiberglass. It may be expensive for a door, but it is the simplest to maintain. More important, it is durable, suitable for any climate condition and energy efficient.
Regardless of the door type you choose, the locksmith that you will hire like the locksmith in San Diego knows how to install door locks in the materials used and which products are appropriate.
Tips to Make Your Doors Burglar-Proof
Aside from using one of the suggested materials above for your doors, below are other ways to make sure that no burglars can enter your home:
1. Check the deadbolt strike plate. Some strike plates can only shut the door, but are not strong enough to prevent forced entry. If you or your locksmith in San Diego finds your strike plate as flawed, replace it with box strike plate that has longer screws and offer full metal enclosure.
2. Give your door sufficient lighting so it will be difficult for burglars to even step at your doorway. You may consider using motion-detecting LED light as turns on whenever someone is outside.
3. Strengthen your door using reinforcement kit, which puts in a layer of steel to your door frame to keep it from tearing. This kit can survive forceful entry thus burglars or intruders will find it difficult to enter your home even if they kick your door.
4. Consider using access control system so you will not use keys anymore. Through this, you can control people who will come in and come out of your home. You can also see in the camera the person that is at the doorstep even if you have not opened the door yet.
Staff Writer; Terry Page