Kyle Jenner, Tyga relationship, break up just rumored, back together is it.
August 27, 2016 by Staff
Filed under Uncategorized
(ThyBlackMan.com) Are they on or are they off? That is the question which no one seems to know the answer to. With confusion reigning supreme in the relationship status quo of Kyle Jenner and Tyga, it remains to be seen where it all leads. With the Kandarshian's worried that they little sister may have secretly tied the knot with Tyga, this saga has become all the more interesting.
Kyle Jenner and Tyga, who had a much publicised, high profile break-up earlier, now seem to have come back even stronger. It seems as if the reality teen and the rapper are happier now than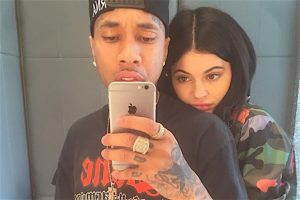 they were ever before. From holding hands and walking together to other public displays of attention, they have done it all and more.
However the Lip Kit entrepreneur, who is younger to the rapper by about 8 years, seems to have got over the break-up and is happy letting the rapper be a part of her life again. It is to be noted that Tyga, left Kylie's house after spending Thanksgiving last year with the whole clan of Kandarshians, presumably because they had broken up.
But all that seems to be in the past now! The Rack City rapper and the E! Reality star could barely manage to keep their hands away from each other in Los Angeles. Kylie Jenner, who recently turned 18, was gifted a Ferrari on her 18th birthday by Tyga. Even though they had split only in May this year over something the rapper was said to have done, the couple's reconciliation seems to have made them realise their love for each other. They were seen cuddling, nuzzling and making up for lost time in their recent outing together.
But even though the rapper seemed to be much involved in the relationship, the "Keeping Up With the Kandarshians" star was seen holding back and keeping things cooler between them. Kylie Jenner seems to be taking things slowly and carefully.
But for now it seems that their breakup is a thing of the past. With romance freshly rekindled, this couple seemed to have come even closer now in spite of the rocky relationship they have shared in the past.
Staff Writer; LaKeisha Moore