How to Properly Claim Compensation in the UK for a Delayed Flight.
(ThyBlackMan.com) Brexit or no Brexit, flights from the UK (as of the moment) still fall under EU law, and this means that flights leaving from the UK must follow EU law. It also means that, in case of delays, you are entitled to compensation under EU regulations. Unless the airline can show that the delay was caused by 'extraordinary circumstances', the airline has to pay you what you deserve. On paper, this all sounds simple and straightforward enough – after all, laws are laws – but often passengers are confused and don't know what to do when they are a victim of delays. To all those with questions: here's how to properly claim compensation in the UK for a delayed flight.
Start with the rules
It's actually simple: the rules to follow are the EU rules, established by the EU Court of Justice – and they are applicable to an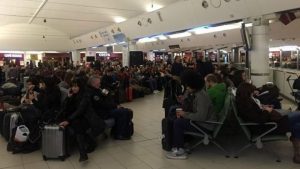 y flight that departs from an EU airport, or to any flight offered by an EU carrier. This includes flights from the UK, and other countries that are not technically within the EU – such as Iceland, Norway, and Switzerland. Also remember that the delay is counted on the arrival time – not departure time.
When is the airliner exempted?
Yes, there are exemptions. An airline cannot be held responsible if it can be shown that the reasons for the air delay are 'extraordinary circumstances' – which are circumstances beyond the airline's control. The delay does not entitle you to compensation if it is caused by bad weather, airport strikes, political instability, war, security threats, and so on. Please note that technical failure, maintenance, or repair and similar incidents are not valid excuses and can be controlled by the airliner.
Yes, up to 6 years ago!
The statute of limitations allows you to claim compensation for delays and cancellations that happened up to 6 years ago in the UK (5 years ago in Scotland).
What compensation are we talking about?
It depends on the situation, but here's a quick guide:
Delays for more than three hours with a distance of up to 1500km: €250.
Delays for more than three hours with a distance between 1500 to 3500km: €400
Delays for three to four hours with a distance over 3500km: €300
Delays for more than four hours, for flights longer than 3500 km: €600.
Whether you are successful in your claims will largely depend on the attitude of the airline – some are so resistant to accommodate their own passengers that they claim 'extraordinary circumstances', or offer you smaller compensation than you are entitled to. Don't be fooled; the rules and EU regulations and laws are very clear, and persistence often pays off. Unless your flight is delayed or cancelled because of war, security concerns, the weather, or other things beyond the control of the airline, your insistence on compensation is very likely to be honoured. There are plenty of cases to prove it.
Staff Writer; Bryce Potter