"Black Superheroes" next journey to Comic Con in Orlando, Florida.
(ThyBlackMan.com) Wish us luck as we share the "Black Superheroes" with thousands that did not know of these cultural pioneers only told in stories and fables.
Derived from folklorist and Jacksonville author Stetson Kennedy's
"Palmetto Country";  Library of Congress American ex-slaves archives gathered by the Federal Writer's Project during the 1930s, and the commemorative comic book, "Introducing The Black Superheroes", written and edited by Tangela Floyd and illustrated by Brian Oakley.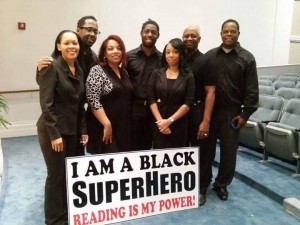 Young Minds Readers Theater looks forward to performing at
CONjure, an Orlando Comic Con, on Saturday, March 5, 2016,
at 6pm, in the Orange Conference Room, at the;
Wyndham Orlando Resort
8001 International Dr
Orlando, Florida 32819
Facebook Page: https://www.facebook.com/events/244794949186578/