Black History: What You Should Know about the "Greensboro Six".
(ThyBlackMan.com) Recently this newspaper printed a story about the "Wilmington 10", a group of African Americans and one white female who were falsely accused and convicted of burning a store. After 40 years the group members were pardoned by North Carolina Governor Beverly Perdue. But there is another story about a group of North Carolinians who bucked the system and left their mark on the game of golf. They are known as the "Greensboro Six."
On Wednesday, December 7, 1955, a Greensboro dentist Dr. George C. Simkins Jr., closed his office, grabbed his golf clubs and went across the street to Arthur Lee's Shell Station to await the arrival of his golfing buddies for their weekly rounds. But this day would be different from the others. In the past the six golfers would travel to Nocho Park, a 9-hole course in Greensboro or to other public courses in High Point, Charlotte or Durham to tee it up. But the group that also included Phillip Cook, Sam Murray, Elijah Herring, Joseph Sturdivant and Leon Wolfe had a different plan in their minds. The six golfers planned to play Gillespie Park, a public course that was operated as a private facility. The city entered a $1 a year lease agreement with a group of white citizens who saw fit to restrict play at Gillespie to "members" and their guests only. That meant, "Whites Only."
The Greensboro Six arrived at Gillespie Park, walked into the pro shop and announced their intentions to play a round of golf. The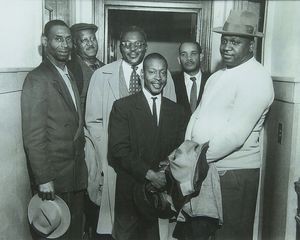 attendant told them that they couldn't play and put away the registration book that every golfer had to sign before play could begin. The six were determined. Each golfer walked to the counter and paid the .75 cents green fee and headed to the first tee. According to reports, the group had played five holes before the head pro Ernie Edwards reached them and told them to leave. He held a golf club in his hand, rudely admonished the group for breaking the rules and told them to leave or be arrested.
Dr. Simkins told Edwards, "We're, out here for a cause, the cause of democracy. We're taxpayers. This is a city golf course funded by our taxes and we should be allowed to play it." The golfers finished nine holes and went home. Later that evening the six were arrested and taken to the county jail for trespassing. After making bail, they were released and eventually convicted of trespassing and sentenced to 30 days in jail.
Their first appeal in superior court was denied and they moved on to federal court. Judge J.J. Hayes ruled in their favor and issued a declaratory adjudication stating that although the city had leased the course, it still had an obligation to see that no one was discriminated against. The judge ordered the course be opened to everyone within two weeks. Before that could happen, unfortunately, someone snuck onto the course, set the pro shop on fire, burning it down to the ground. The city refused to rebuild. The course was closed for seven years before nine holes were reopened to the public in 1962. The Greensboro Six eventually had their sentences commuted by Governor Luther Hodges which was little consolation after all of the "hell" they had to endure, just because they wanted to play golf.
Today we have a Black president and many things have changed, but only a few short years ago our freedoms were so limited. Lest' we forget.
Written by Michael Dean
Official website; http://azinformant.com