Get The Lads Together For A Fantastic Weekend With These Awesome Ideas.
(ThyBlackMan.com) If you're looking for a weekend break to rave about then why not make it a big one? If you want to get together with the lads, but you're not sure what you fancy doing, then don't panic. We've put together a great list of ideas you and your mates are going to love. So grab an overnight bag, and get going!
Blackpool, UK
Blackpool is a favorite tourist destination for anyone visiting the North West of England. It's out on the coast, so you have easy access to the beach and all the attractions there. If you're staying overnight in the town, you can enjoy the great British B&B, where you'll be served a Full English breakfast. This is a meat lover's dream! For a full weekend of things to do, though, you need to head online. Go to www.blackpoolpleasurebeach.com and grab tickets for England's favorite theme park. You'll find plenty to do.
Lyon, France
If your stomach rules your head and your heart, then Lyon is the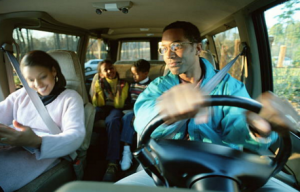 place to go. This is where you'll find some of the best French food prepared by the world's best chefs. It is truly a foodie's dream. France is a gorgeous country, and Lyon has some of the best bits to see. You have quaint French villages and countryside, as well as city living and couture. And don't forget the French wine! One of the best things about this region is that you can hire a few bicycles and check out chateaux, river routes, and some of the best views France has to offer.
Las Vegas, USA
Vegas is world famous as a great destination for stag dos and wild weekends away. But it doesn't have to be all about the sin! You can thoroughly enjoy Vegas without gambling a dime. There is a huge amount there to keep you entertained, from theme parks to big theater shows. Then there are all those incredible helicopter rides across the desert to see what this great region is really all about. There's never a dull moment when you're in Vegas. There are plenty of great hotels to choose from too.
Squamish, Canada
For something to suit the more adventurous, rapid rafting is the way to go. You can book tours for specific routes down the river that will get the adrenaline pumping. Some even throw in meals for your package. Rafting is pretty thrilling stuff, and you'll not want to miss a second of it. Don't forget your Gopro to be sure of some timeless footage capture. Whitewater rafting is certainly not for the faint-hearted.
City Break, Berlin, Germany
For the ultimate city break that offers you literally everything you could want, it has to be Berlin. This incredible city is clean, easily accessible and has some of the best nightlife a city could offer. The restaurants are pretty good too, with steak and German sausages being tourist favorites. But what you really come to Berlin for is the awe-inspiring beers. There are hundreds to choose from. Take in some culture in the day and then party through to dawn in Berlin.
If you love a getaway without the hassle, any of these could be great for you. So gather the lads and make the booking. Have a great time.
Staff Writer; Chuck Parker