Blue Ivy Carter, Beyonce little kreyol princess.
January 30, 2016 by Staff
Filed under Uncategorized
(ThyBlackMan.com) Blue Ivy Carter is preferably the luckiest daughter in the world. Born into the famous & wealthy family of Beyonce Knowles and Jay-Z Carter.
Surprisingly, when Beyonce broke the news of her pregnancy during an excellent performance at the MTV Video Movie Awards in 2011, Blue Ivy Carter immediately found herself making headlines before actually being born. The breaking news did attracted more than 8868 tweets per second from behive stans who were very eager to share the wonderful news.
On Saturday 7, January 2012, she was born naturally at Lenox Hill Hospital in New York. The middle name of the baby, Ivy, is regarded to be in reference to her parent's love of the number four.
Precisely, the special number is thought to hold particular prominence for the musical couple soon after they married on April 4 2008, while Beyoncé's recent album is known as 4.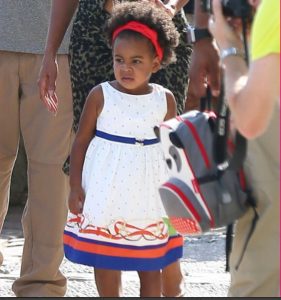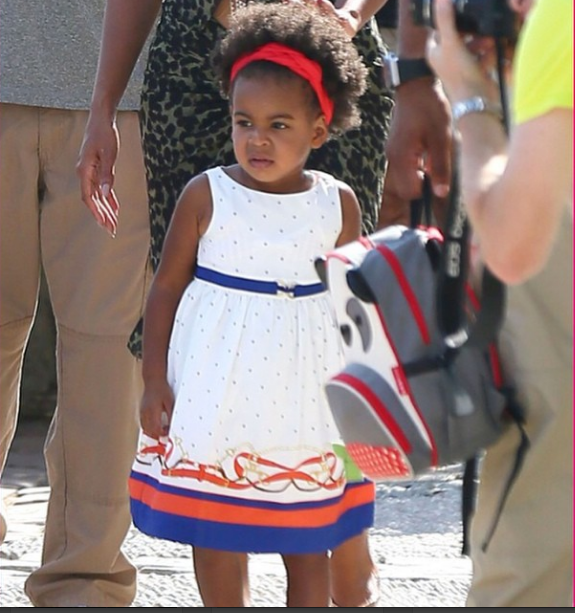 Nevertheless, more tellingly, the famous pair has similar tattoos of the roman number four-IV- on their weddings fingers.
As for Blue Ivy Carter, her dad has a trilogy of albums with that special word in the title, including The Blueprint, The Blueprint 2 and also The Blueprint 3.
After she was born, less than three weeks, Blue Ivy Carter made US Billboard chart history since she became the youngest artist to be in the charts. What an extraordinary move!
The baby girl's cries feature with her dad, Jay-Z, on a top track called Glory that was released on Monday 9 January 2012.The song was ranked at number 74 on that week's Billboard Top Hip-Hop/R&B Songs chart and therefore making little Blue, nicknamed B.I.C, the youngest world record-breaking artist
Ever since Blue Ivy Carter was born in 2012, Beyonce, her mother has been very shy displaying her face in the public. In the first 2 years of Blue's life, we only saw the back of her head.
Soon after Blue Ivy Carter took the stage with her parents at the 2014 MTV Video Music Awards, we have begun to see that lovely little face several times.
More interestingly, we caught a glimpse of her gorgeous Halloween Michael Jackson costume previous year. We saw her fully dressed up for the grandma wedding of Tina, and even she moved on to have the best summer ever. Blue Ivy Carter seems to be everything, and who knows one day could be a shining music star like her mom Beyonce.
Staff Writer; Shawna Brown