Join People United To Advance The Dream Dr. MLK March.
(ThyBlackMan.com) Dear Concerned Community Advocate:
Greetings in the matchless name of our Lord and Savior Jesus Christ. It is our prayer that this communication finds you abounding in the grace and favor of Christ our Lord. I want to take this opportunity to share with you the exciting opportunities quickly approaching us in celebration and commemoration of the 2016 holiday to honor the life and legacy of the late Dr. Martin Luther King, Jr.
People United to Advance the Dream, Mobile, Inc., (PUAD) will once again host an annual Ecumenical Service Sunday,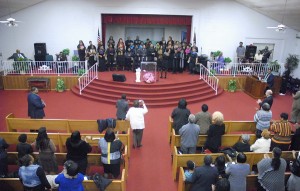 January 17, 2016 at 5:30 p.m. at St. Louis Street Missionary Baptist Church, 108 Dearborn St., Mobile, AL, followed by services Monday, January 18 starting with the Pre-March lineup at Bishop State Community College, Broad St. Campus, at 9 a.m. Monday, followed by the 26th Annual March, at 12 noon and a Post-March Rally at Lyons Park at 1 p.m.
We cannot do this without you! Your unified support and participation will help make this event a success, and will help bring a spirit of unity and life to the event in honor of such a great man, a man who was not great in himself, but in the cause he championed, and in the higher calling of service to which he adhered.
Please join us! Feel free to bring your youth groups, choirs, service organization representatives and groups, and all interested individuals and agencies to PUAD's commemorative Dr. MLK Services 2016. Our theme for this year is "Fulfilling the Dream in 2016!" For more information or specifics, please feel free to call Rev. David Edwards at (251) 518-8885. We look forward to sharing the great legacy and dream of Dr. King with you this year!
In His Service,
PEOPLE UNITED TO ADVANCE THE DREAM, MOBILE, INC.
Rev. David Edwards
Rev. Lawrence Battiste