Lil Wayne: Civil Rights Balladeer.
(ThyBlackMan.com) The events surrounding and leading up to Black Lives Matter, Chi-Raq and the black incarceration crisis together constitute the most serious racial civil rights struggle since the 1960s. Examples of rap tracks addressing these crises abound, but no artist has singularly assumed the mantle of the struggle and become the civil rights balladeer of our time. However, a strong argument can be made for one of the unlikeliest candidates for Civil Rights Balladeer, Lil Wayne, as the most apt for the job.
Just as it is challenging to see the literary merit hidden behind Wayne's abundant drug-, violence- and misogynistic lyrics, so too is it difficult to hear Wayne's political and civil rights messaging. But upon close inspection, Wayne emerges as the only successor to Lincoln's speechwriting and Bob Dylan's civil rights balladeer-role.
[Dylan performed at the National Mall at MLK's "I have a dream" speech and was widely regarded as the popular musical voice of the civil rights movement with such songs as "When My Ship Comes In," "Blowing in the Wind," "Oxford Town," "Hurricane," "The Lonesome Death of Hattie Carroll" and "Maggie's Farm." Dylan has also performed his own rendition of the Sam Cooke classic, "A Change Is Gonna Come," including a performance at The Apollo.]
Today, Wayne has the most poignant commentary on Black America, but it is difficult to see hidden among the most politically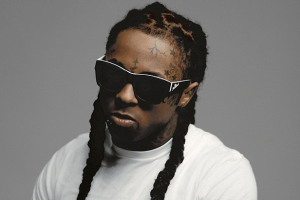 incorrect, offensive, vulgar and seemingly-vacuous lyrics among today's rap superstars.
Wayne, unlike other living rap legends, refuses to shy away from the most flagrant and abundant usage of "b*tch," "hoe," "dyke," "faggot," "N*gger" etc. Despite not being a user of most anything but weed himself, Wayne raps as if he's drowning in a mountain of cocaine, a sea of alcohol and syrup, and a landfill of prescription drugs, cigarettes, Molly, etc. Furthermore, it's almost impossible to find a single Weezy track without a reference to blowjobs, cunnilingus, vaginal and anal sex, multiple partners and sexual exploitation of dehumanized female figures. All of this makes it near impossible for the average listener or the general public to see Lil Wayne as having any role in voicing the struggles of Black America today.
There are three key components to earning the title of Civil Rights Balladeer of our time:
(1) reaching a broad audience;
(2) having the literary quality, substance, poignancy and cultural gravitas to warrant serious consideration as a timeless artist (not a popular-fad artist);
and
(3) poignant, beautiful, poetical and serious expressions of the struggles of the day.
(1) There is no question that Wayne reaches a broad audience: he has the all-time record for most Billboard singles (beating #2 Elvis); he has one of only two rap albums this decade to sell over a million copies in its first week (Tha Carter III; the other was 50 Cent's The Massacre); he is by far the most downloaded mixtape artist of all time; and his Twitter is by far the most popular of any rappers'.
(2) For the argument that Wayne is a timeless artist of substantial quality, poignancy and cultural gravitas, I'll refer readers to the book on the subject, The Literary Genius of Lil Wayne: to be counted among Shakespeare, Lincoln and Dylan, which is reviewed here at The Daily Californian: http://www.dailycal.org/2014/11/06/lil-wayne/ "There will come a time in the life of every hip-hop fan when he or she will be called upon to defend the art form…against academics, critics or old-fashioned haters, this book is the map." – Meg Elison, The Daily Californian
(3) The last piece to be argued is that Wayne's music contains poignant, beautiful, poetical and serious expressions of the black civil rights struggles of our time. While examples are peppered throughout Wayne's enormous canon, [including "Tie My Hands" from Tha Carter III], it would be most relevant to point to examples from Wayne's latest work, among which, of the three albums he released this year (Sorry 4 The Wait 2, Free Weezy Album, and No Ceilings 2, all three of which are among the best of his career – another point argued in the book), Free Weezy Album contains the best and most frequent, including:
from "My Heart Races On," on the subject of socioeconomic inequality and economically depressed communities:
"Reality bit me and continue to bite me. /

Got no degree, but where I'm from, that's the original climate, /

where you can't tell a fiend a crack rock isn't a diamond."

[notice the confluence of puns, rhyming, film allusion, and metaphor]
on the subject of the unbelievable rate of premature deaths among black males in this country and its effect on families:
"tomorrow's not promised: when I'm gone but not forgotten, /

I hope my homies ' calming down my momma, Lord."

on the subject of the fatherhood crisis in the black community and Wayne's personal experience with it:

"Lord, Mom, I hate ' I got my daddy's eyes. /

Never looked into my daddy's eyes, cuz he ain't had the time."
and on the subject of Black Lives Matter:
"Oh, Lord, what are we running from? /

The police, cuz they already killed enough of us. /

Stay out the street, cuz they don't fuck with us: they hunting us /

We in a race against races: that's a color run."
The chorus of the song contains: "the revolution will be televised; I just hope my contribution will be memorized." We have seen the start of this latest black civil rights revolution televised. If Lil Wayne continues to produce such powerful music on the subject – despite the fact that it's veiled by his vulgarity – his contribution is certain to be memorized for generations to come to an extent beyond that of any other rapper alive today, ultimately proving his claim to be "The Best Rapper Alive."
Written by Kreston Kent
This talented brother is author of The Literary Genius of Lil Wayne: to be counted among Shakespeare, Lincoln and Dylan (http://www.krestonkent.com)
Purchase Book;
Amazon: http://amzn.com/0945609426
iBooks: https://geo.itunes.apple.com/us/book/literary-genius-lil-wayne/id933595313?mt=11&uo=6