5 Things You Need to Know About Surveillance Alarms and CCTV.
(ThyBlackMan.com) Everyone wants their property to be as safe as possible. When you are carrying out refurbishments or building a home from scratch, security should be of prime consideration. Many people choose to install alarm systems. Today's alarms are much more effective than in the past. They are also simple to fit and can be easily controlled and customised to your needs or the needs of the homeowner. CCTV and intercoms also help to provide protection against intruders and unwanted visitors.
A Variety of Home Alarm Systems is Available
A quick look on the shelves of electrical wholesalers reveals the choice you have when it comes to alarms. The most common feature included in these alarm systems is a central control panel that links to various sensors which are placed around the property. Anything that triggers the sensors will set off the alarm, which can be controlled using the main control panel. The most common form of detector is the infrared movement detector which is a sensor fitted near the ceiling which records movement and sets off the alarm if any motion is detected. In addition, magnetic door panels and panels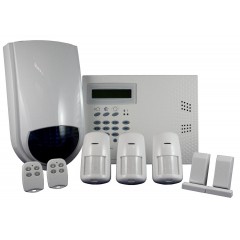 on window openings set off the alarm if they are opened.
You Can Set Up Zones
Think you can't have an alarm system if you have a dog? You can set up different zones in the home that are turned on or off as you need. So you can isolate an area of the house where your dog stays in the day so they won't set off the alarm. Or you can turn off the alarm upstairs while sleeping but leave it on downstairs. There are alarm systems where you can record your choices and automatically have the alarm set at certain times of the day and in certain zones.
Choose Between Wired and Wirefree Systems
A wirefree system is the easiest to install because you obviously don't need to worry about connecting the alarm system to the mains electricity. But you do need to remember to change the batteries. Having a wired system limits the number of components like magnetic window strips you can have within the circuit. The circuit needs an electricity supply but you can gain advantages using a wired system as it can also be monitored by a specialist company.
CCTV Cameras are a Valuable Addition
CCTV is effective for deterring criminals. You can fit CCTV cameras with infrared motion detectors so they start recording when the alarm is triggered. It is helpful to have night vision mode on the cameras as this is the most likely time when intruders will strike, and consider an anti-fog lens for best conditions. You can link up CCTV to your smart phone to monitor the cameras when you are away.
Intercom Systems are Useful
Speakers at your front gate are useful so you can learn who exactly is ringing your bell without having to open the front door. You can even fit video cameras on the door to see who is there before opening.
Staff Writer; Luke Davis