Amber Rose and Wiz Khalifa Still Giving It A Go.
October 31, 2015 by Staff
Filed under Uncategorized
(ThyBlackMan.com) Amber Rose and Wiz Khalifa are back together again. Well maybe or maybe not. It looks like Amber is still in love with her ex and baby daddy Wiz Khalifa. I know you've heard about all of the back and forth between the two. He cheated. She cheated. I guess they both cheated.  You know the story.
Amber Rose comes across as calm and laid back, on top of being sexy. But she might be an emotional wreck.  At her past SlutWalk event, which took place in Los Angeles, Amber told the crowd with tears in her eyes that her ex Wiz caused her emotional pain. Then days later photos were floating around the internet showing the past married couple cuddle up under each other.
Hmmm maybe Sebastian's parents are thinking about hooking up again. Amber Rose was on Hot 97. During the interview she revealed that she and her ex are both in a good place when it comes to their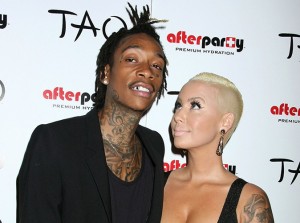 relationship. Amber told Hot 97 "We're doing really, really well. We were on the phone for like three hours last night, just laughing about me cursing out his friend. It was awesome."
It seems as if a selfie, Instagram pics and Tweets tells the whole story of a couple's relationship. And if that's the case Amber's fans and the world of social media will always have a view into her life.
Amber Rose, a bad bitch is "a woman who gets her way by any means necessary." Her new book,?How to Be a Bad Bitch,?is part autobiography and?part how-to guide for her fans to achieve what Rose earmarks as valuable goals. The 32 year old vixen, who rose to fame after she was noticed working as an exotic dancer and recruited for music vids, focuses a large part of her book?on improving physical appearance and the importance she places on looking attractive.
Maybe Amber Rose should concentrate on her promoting her new book, "How to Be a Bad Bitch", which is a little autobiography mixed with a little how to guide on achieving your goals.
This just might be the thing to keep Amber Rose's mind off her baby daddy Wiz Khalifa and help her to move on with her life.
Staff Writer; Shawna Brown