Amber Rose, PETA Bad Girl.
October 30, 2015 by Staff
Filed under Uncategorized
(ThyBlackMan.com) Amber Rose has been in the blacklist of PETA for quite long. Back in 2010, the official website of People for the Ethical Treatments of Animals had posted quite harsh commentary about the hip hop model following her love for dressing in fur. In the latest event, the problem seems to have reached a new height, when the activists of PETA confronted Amber Rose during the launch of her first book "How To Be A Bad B***h".
Amber Rose is currently busy promoting the release of her first book as an author. The glamour model arrived at the Tribeca's Barnes and Noble bookstore during her New York City Visit on Monday, 26th October, to boost the promotional campaign, but instead of her literary venture the eyes were fixed on her corduroy catsuit.
The notorious activists of PETA had rushed to the occasion posing as fans and as captured in the video which is now making rounds in the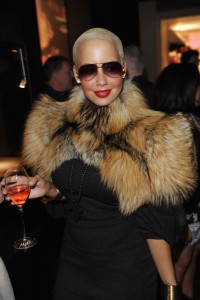 web world, one activist approached Amber Rose at the signing table and then slammed her with the direct question why Amber still continues to promote the fur industry. The situation was swiftly taken under control by the security, but that could not stop the PETA activists to scream "Amber promotes torture and death".
Surely, this was not the way the appearance of Amber Rose was planned but surely this incident has added more negative hype to the launch of her book, and Amber might be actually enjoying the limelight she is getting all due to the wrong reasons.
Other walks of life
Amber Rose certainly did not have a smooth start in life. She started to gather limelight since she posed for the print advertisement of Louis Vuitton. She launched her own eyewear line in 2009 and signed for modeling with Ford Models for 2009 to 2010.
In 2010-11 she also appeared in a few reality shows and also played the role of a judge. One of her biggest achievements of modeling career came as the face for Smirnoff, which made her a common face in the ads and billboards. Amber Rose came up with her first single "Fame" in 2012, followed by "Loaded" in just the next month of the same year.
After success of the eyewear range, Amber Rose came up with a new fashion clothing line, Rose & Ono, with friend Priscilla Ono. Rose was also close to Leticia "Tish" Cyrus, the mother of the singer Miley Cyrus, who also managed her affairs. In 2014, she appeared in the film School Dance as Mary Wanna.
In May 2015, rumors about Amber Rose dating Machine Gun Kelly came up, which was later confirmed by Kelly. Amber also accepted the speculations pointing Kelly as a real nice guy.
Staff Writer; Shawna Brown