Fetty Wap Trap Queen, Hip Hop's New Star.
(ThyBlackMan.com) From the inception of Hip-Hop, the Black woman has been portrayed as everything from a heroine to a house wife to a video-ho. Irrespective of the role she plays for said artists, she remains hitched to Hip-Hop like a descriptive plot interwoven in an intricate piece of a written narrative.
Fetty Wap is presently standing with Billboard's top ten artists because of his lyrical portrayal of his Trap Queen. This particular rhythmical character is described as a pretty, weed smoking, cocaine cooking, strip-pole posturing, ride or die chick. The song put me in the mind of Biggie Small's classic, "Me and My Bitch."
In fact, it may have been Biggie's song that spearheaded the sordid actions that led to the tragic downfall of Kemba Smith, a onetime Hampton University student who was a real life Trap Queen. Her kingpin was a notorious drug lord named Peter Hall. Kemba, along with Hall, were under federal investigation at the time of Peter's untimely murderous demise. Therefore, in 1993, Kemba, alone, was arrested and sentenced to 24 years in federal prison.
But, I do realize that Fetty Wap was only two years old at the time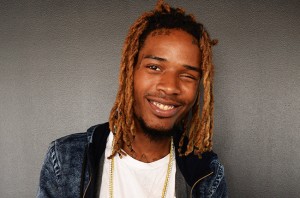 of Kemba's ordeal; therefore, I can only hope that he's singing more for entertaining purposes, and is not rapping and mapping out a path that leads to death, destruction and misery for other young, naive Black women.
I then heard the lyrics of another one of his chart topping hits: 679. Again, my ears consumed lyrics seasoned with sex, guns, drugs and the like. And, since I do understand the power of words, I researched the crime rate in Patterson, NJ—his home town hood. According to crime data, 85% of US cities are socially safer than Patterson.
Patterson is also the home of Lean on Me, the 1989 film starring Morgan Freeman. As of the date of this writing, Patterson's high schools have a graduation rate that has been improving each year for the past four years.
That being said, I'm sure that Fetty Wap, whose career appears to be soaring, is also talented enough to sings songs which inspires children to learn, labor and love thy neighbors. I'm sure that he would hate for his music to be a prophecy or a guide for an uptick in Patterson's or America's crime rate.
I think he, along with millions of Black Americans, should be sick and tired of brothers and sisters getting trapped off by Drug Enforcement Agents who pay mortgages, tuitions, and car notes off the sore backs of incarcerated and enslaved Trap Kings and Trap Queens who couldn't see the forest because they were too busy smoking too many trees.
Staff Writer; Saint Solomon
Twitter; http://Twitter.com/saintsolomon2
Instagram; http://Instagram.com/saintsolomonnyc
Official website; http://www.SaintSolomon.com
FB; http://Facebook.com/saintsolomon